The role computer plays in your daily work?

China
April 2, 2008 1:26am CST
Our lives have been changed greatly the moment computer was introduced.World becomes smaller,life is no longer boring. My works wholely rely on computer.The first thing I come to office every day is turn on my computer,otherwise my work can not start without computers. Similarly,we join in discussions here through computers.The great popularity computer now enjoys means we can not live without computer nowadays. Then has computer become a necessity to you?
6 responses

• Canada
3 Apr 08
My job depends on computers....both my own and other people's, you see my job is a computer repair technician..if theres no computers to work on i have nothing to do. I use my own work pc to research issues and fixes and then apply them to other systems...i also use it to entertain myself while i wait for systems to complete the requested jobs.

• United States
3 Apr 08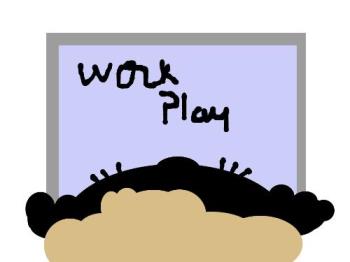 I can't drive thanks to disability

so I use my computer like my car. I pay most of my bills at my keyboard and use it to make a tiny income stream for myself as well here at MyLot. It's not bad for the social stuff either!

• Singapore
3 Apr 08
Modern technology enables us to get things done quicker. I do enjoyed having a computer, getting more things done without unnecessary travel and playing games in it during boredom. Still we have to strike a balance in life so as not to misuse it in other ways that will affect our total wellness.

•
2 Apr 08
First thing I do in the morning is boot my laptop, go and make a coffee, have a ciggie and start work at home, for my job I have no need for an office just my front room. Sounds great doesnt it and it is it suits me but I do feel sometimes that interaction with others might be healthier, another thing I thin about is people say they couldnt live without a mobile/cell phone, maybe not, but ask yourself this what did you do before the internet?


• Canada
2 Apr 08
The computer is definately a necessity to me. I love pretty much everything about it. I can look up information on any topic I need. I really like being a part of social networking sites, such as mylot. It helps me meet new people. I find it easier to communicate with my friends, because of email, instant messaging, and other websites. Last year, I even did my schooling through an online school. All my work was done on the computer, and I emailed in my assignments. Privacy can sometimes be an issue when online, but I believe that it is possible to have privacy and be safe while you are on the internet, if you are educated enough. One day, I believe that my job will require me to use a computer aswell. This means that the computer and internet will become that much more important to me.