What is the best type of dog for a young family?

United States
April 5, 2008 6:49am CST
We are researching getting a puppy. We are a young couple with a three year old daughter. My husband works full time and I work part time and have the summer off. So we are looking to get a puppy at the end of June when school ends and I have a couple of months off that I can spend with the puppy before I head back to work for 3 hours a day in September. We have a fairly good size house with a nice yard. My daughter would love any kind of dog, our frequent trips to the pet store to see the puppies has proven that to us. She is such the animal lover. I would love your opinion on the type of dog you think would best suit my family. Please share any experience you have with the breed as well. Thank you all!
11 responses

• Canada
6 Apr 08
I have two black lab pit bull mixes. They are the sweetest dogs. Yes they are big (one's 100 lbs) but they are the biggest sucks. I used to babysit when I was in my teen years and the dogs just LOVED kids. I never once had the fear of them attacking the child. The labs are very calm mature dogs. VERY easy to train and great companions. I'm not saying have a black lab pit bull mix but some type of lab would be wonderful. They put up with everything.

• United States
6 Apr 08
Thank you for your input. Our neighbors foster dogs and have a couple black labs. Sometimes they find their way into our yard when we are outside and playing and all the labs want to do is play with you and sit next to you and get a petting.

• Australia
6 Apr 08
I have two small jack russel terriers which I adore. This breed has a lot of energy and do require at least an hour a day of time with. They are a lot of fun I think for kids especially but kids like with all dogs should be taught to not tease a dog, kids don't know and always make the mistake of it. I think if the dog no matter what breed can be disciplined and taught well to accommodate and suit your needs but it pays to do some research and learn about the breed's temperment. I think the small dogs are a lot of fun for kids because they have so much energy especially jack russels so they will be able to keep up with it. They really are a joy. Every dog has different personality and that attracts to their appeal. What ever you decide to get I am sure you will cherish and love and care a great deal about with the love they in turn give back.

• United States
21 Apr 08
Yes, dandj929....jack russell terriers are good dogs, they are good with kids, we have one, and have 4 nephews, whenever they come over he just loves it, all the attention they give him. But this breed as any other terrier breeds are really hyper, they have to have a place where they can run and get exercise, they'll go nuts if you just keep them in one place, and need alot of attention. But they are easy to train, easy to housetrain. The one we have listens better than a child does. He's all about doing what you want him to do, but remember they are a type of hunting dog, so if he's loose, you'll have to keep an eye on him. Ours, tends to run off into the woods if don't we aren't watching him, but if we call his name he comes right back. But anyway, they are good dogs...I don't know much about any other breeds.

•
5 Apr 08
German Shepherds make excellent family pets. they are easily trained, truly loyal, and will defend their family against any danger. they are gentle and loving with children, and will herd them, ensuring they don't become lost when out with the family. I grew up with a German Shepherd, and they really are perfect family dogs. a medium to large dog is better around children than small dogs, as larger dogs are more docile, less likely to nip, and more affectionate than smaller dogs.

• United States
5 Apr 08
German Shepherds are wonderful dogs, my hubby had one growing up and he says they are so well behaved, calm, and love their family. Will definitely put a German Shepherd on our list of good possibilities. Thanks so much for your input!

• United States
5 Apr 08
Firstly, I would suggest you not buy from a pet store. Did you see Oprah's show yesterday on where puppy store dogs come from? Secondly, I think the absolute best choice if you have a three year old is to adopt a dog that is already a couple years old. There are many dogs available where it is known that they enjoy children and have been exposed to small children and that is important because even if geting a dog as a puppy, there are no guarantees how their personality will evolve. You may find a medium sized dog is much more suitable than a tiny dog for many reasons. If your daughter falls, or pokes the dog a little too hard, a tiny dog is going to nip and defend itself, where a little larger dog won't see her as such a threat. I suggest focusing on the nature of the individual dog rather than the breed. A 2-5 year old dog will be past the chewing stages, etc, and is more ready to be a real friend to your daughter. I would visit my local shelter - preferably one with adoption counselors. or local rescue groups. First, go without your daughter so your initial choices are influenced by appropriateness of the dog to your life and not solely based on what your daughter thinks its cute but might be too hyper or too fragile for a 3 year old. If you are deadset on a puppy, there are puppies at the shelters too, but like I say, it will be an easier first dog if you seriously look at already kid tested dogs that are past puppyhood. You may find that a 18-40 lb mixed breed dog turns out to be the best thing that happened to your family. My parents resisted the urges of getting a puppy and it was the best thing that happened to our family. We had a great dog to grow up with who was perfect for our family.

• United States
5 Apr 08
Thank you for posting. I have signed up with petfinder.com to send me emails when they gets puppies at our local shelters and have been searching through the site for older dogs as well. I won't be buying a puppy from the pet store. My sister-in-law bought a Cockapoo puppy from the petstore and it was so sick and cost her a bunch of money to get it well. If we opt for a particular breed of puppy we might go through a local breeder.


• United States
5 Apr 08
I like Poms, but they can be quite snappy sometimes. Not a good choice for a 3 year old

• United States
6 Apr 08
I love lab's and they very kid friendly So check out a cute lab puppy


•
5 Apr 08
Checking out the local rescue/welfare centers is a good idea. I would go for an older dog as a first dog especially as you have a young daughter. Make sure the pooch likes kids. An older dog will already be housebroken which is always a plus. They've gone through their chewing everything in sight stage. Labs are great with kids as are collies. It depends on what you want to do with the dog. Do you all like to hike? How often will you be able to take the dog out for long walks? Even though you have a backyard, the dog will still needs his daily walks. Being in the yard all the time will get very boring. I've never had a small dog, but I do have experience with German Shepherds, Huskies, Labs, Old English Sheepdogs, Rotties, Collies. If you get a dog from a shelter, ask a lot of questions as to his temperment, personality, energy level and habits. I would probably go for a Lab as they are fun loving and get along great with kids. Labs tend to mature late.

• United States
6 Apr 08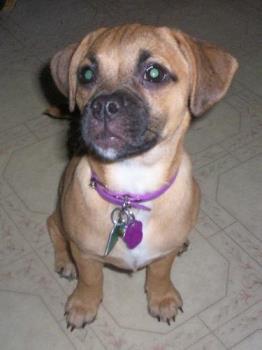 It all depend on what you like I suppose. I would suggest a low maitenence calmer dog. You dont want one that is to hyper being you daughter is only 3. And you might not want a big dog for the same reason. Maybe something like a Puggle would suit your family. Its a cross between a pug and a beagle and OH so adorable. I have one and she is a lover. She has short hair which means less grooming. She only weighs about 12-15 lbs which means if she did jump on your daughter she wouldnt knock her down and hurt her. They are also good watch dogs. Every noise they hear they run to check out and bark if they feel the need. They can be a little stubborn at times but what dog isnt. You have to be consistant with training and all will go fine for you. For refrence no matter what dog you get its a good idea to crate train them from the day you bring them home. Everytime you leave put them in a crate or cage. Tell them crate when you put them in and they will eventually understand what that means. Also this will eliminate accidents on your floor while you are away or unwanted chewing. Dont feed or water in the crate. Its strictly for while you are out. Also dont use the crate for punishment. They will associate it with bad things and not want to be in it. I always put a banket or a dog bed in the crate and a couple toys to keep them occupied. Another good thing is to put the crate in a low traffic area say in a bedroom. This will help with them being excited while you are away. Its just a peacefull place to sleep. Oh and dont leave there collar on in the cage. It could get caught and that could cause a bad situation. I have added a picture of our Puggle for you to see what she looks like. Here is a site I found where you answer a couple questions and it tells you which breed dog is best suited for you. http://www.dogbreedinfo.com/search.htm ~May The Kisses Of An Angel Cover And Protect You Always~ Copper

• United States
6 Apr 08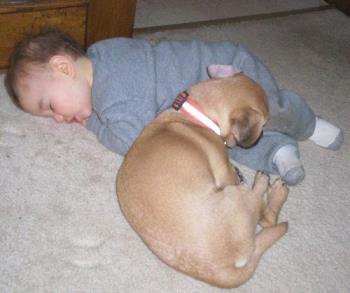 I forgot to add that they are very very good with children. Hemi likes to sleep with my boys and has never tried to hurt them. I also run a daycare from home and she is so good with all the children ranging in age from 1 year to 6 years old. Here is a picture of her sleeping with one of the kids I sit for. He is 1 and feel asleep on the floor and she went and slept with him. ~May The Kisses Of An Angel Cover And Protect You Always~ Copper

• United States
16 Apr 08
Personally I like mutts. Most pure breads all have their own different issues. Stay away from breeds that are overly hyper like certain breeds of terrior. We had a German Sheppard Grey Hound Mix and she was awesome. Growing up we had a Border Collie mix. She was also a great dog.

• Philippines
12 Apr 08
better try a shitzhu (i know i spelled it incorrect) they're pretty cute, adorable, energetic and playful