Look at my lovely curtains!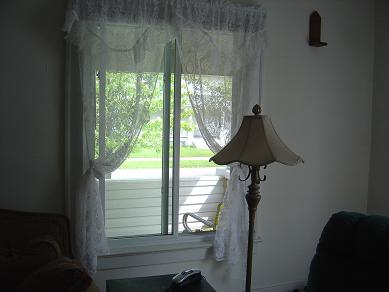 United States
May 1, 2008 10:22am CST
I wanted some nice tie-backs but the lowest price I found was about $15 per window--more than I paid for the curtains!!! I got lace curtains from a discount store for about $4 per window, I've always wanted curtains like this!So I had some shower curtain rings in the basement that the previous owner of the house had left (he left some really good stuff, including a wet vac, because he thought I might need the tools and stuff, what a sweetie!). I drew each curtain panel through a ring and voila! I had nice looking curtains. These rings sell for about $1 a dozen, you can do nearly your whole house this way! 8 windows the conventional way=$120.00 8 windows my way=$1.00 Just thought I'd share!
3 responses


• United States
1 May 08
We have a store called Ollie's here that gets close-outs and the like. Those curtains were over $20 a set and I got them for $3.99 per window!! I took the difference and applied it to my retirement funds, like I do all my savings. Kind of like paying myself a commission for finding bargains!


• United States
1 May 08
Me, too! I'm still looking for a coffee table for the living room, I refuse to spend more than $20 on it so you can imagine how many I've looked at and rejected! Luckily, it's spring and yard sales are popping up. I hope I find one soon, I'm tired of using moving boxes with boards across them!!

• United States
1 May 08
Great idea. I have been looking for a way to tie the kitchen drapes back for cheap. This is a great one. Thanks a bunch.