When did you start to potty train your child??

United States
July 21, 2008 4:15pm CST
I think this is a very sensitive subject. Alot of mothers will give different answers. Yet magazines and pediatricians will say 2-3 years of age. My friend has a son that will turn 2 in the end of September and she says its too early to start potty training him. While I encouraged her to start because trying won't hurt. My daughter is only 10 months old and I will be willing to start as soon as she starts walking. I feel that if you put enough effort into something that there could be a potential. I feel that diapers give to many rashes (especially in the summer) and they are just "hot" no air and cotton underwear would be much better. What do you say?
10 responses

• United States
22 Jul 08
Actually, trying before the child is ready can hurt- if you push too hard or pressure a child. It is futile and yes, harmful, to try to potty train a child who does not show signs of readiness. Signs include showing interest, being uncomfortable in a wet or soiled diaper, starting to be independent in other ways including wanting to dress and undress herself, telling you when she goes. If your child is not doing these things, she is not ready. If she is, then it is a good time to start training, but do not push at first because it is a very new experience and it takes time for a child to get used to it. My son is 22 months old and has been showing interest for a while, but was not comfortable sitting on the potty until recently. I let him sit, encourage him, but I don't make him do it because I know that doing so could turn him off to it completely. I think most children are not ready until close to 2 years old.

• United States
21 Jul 08
My daughter started to be interested in the potty at 9 months old. She was interested and used the potty a few times a day for a few weeks. She lost interest after a few weeks and at 14 months old started to use it again for a few weeks. She is now 18 months old and not really interested again yet. Hopefully she will be for good next time she shows interest. I think you should look for signs from the kids on weather or not they are ready.

• United States
21 Jul 08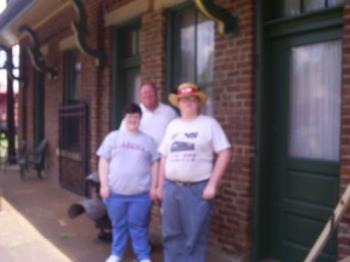 I started with both of mine when they were 2 years old. My daughter was easier to train than my son was. I had a lot of help with my daughter because I was working outside the home at the time and my mother/mother-in-law who took turns keeping my daughter helped me and it didn't take near as long. When I was training my son, however, I was not working and I didn't think I would ever get him trained LOL. But the day he turned 3 years old I took him to the potty chair as soon as he woke up. When I sat him down he started going and I praised him highly. He had a look on his face at the time like a light bulb went off!! After that he started going to the potty chair regularly. He didn't like to go when we were out in town but I finally figured out why. He didn't like the pull up pants that I put on him to try to keep him from having an accident in public. He didn't like to sleep in them either. Once I let him start wearing "big boy underwear" all the time he felt much better. We found out when he was in kindergarden that he has autism. I don't know if that made the difference with him or not.

• India
23 Jul 08
With my first child, I started when he was 6 months and by the time he was a year and a half old, he was completely potty trained. I'm not sure if I was lucky or if it was because I had all the time and patience in the world then. With my second, I started when he was around 10 months....and though the progress was slower than with my second son, I felt we were gaining ground. But when he was around 13 months, my older one had a fracture and I had to do everything for him. I couldn't manage the needs of the older one and the potty training of the second. So, he regressed. I had to start allover again when the little one was around 15 months old...and now he is 20 months old...and we aren't fully potty trained yet....but he's starting to give signs. My kids have never had diaper rash (touch wood...lucky I guess)

• United States
22 Jul 08
You might want to start potty training when she turns 1, but she might have other ideas. My oldest was potty trained in 2 wks after turning 2, it was easy, I took away the diapers during the day and only used them at night. Now with my youngest, she didn't want nothing to do with wearing big girl undies. She used her potty as a trash can, she would take off her undies and try to put a diaper on herself. She didn't get fully potty trained until she was 3. I thought she was going to start school in diapers. Now with rashes, depending on the child, can still get rashes from wearing cotton undies. My youngest gets rashes every once in awhile. Good luck with the potty training.

• United States
22 Jul 08
I think that this is very individual thing. Not all kids are ready at the same time. In my opinion 2-3 is not that old. Both of my kids started trying it at 2 1/2 but it didn't really get done until they were 3. They just were not ready any sooner. It happens when it happens. You can show them the potty, encourage them but if they don't want to use it they won't. If you think that your child is ready then go for it. I agree I do think that wearing diapers in the summer would feel uncomfortable.

• China
22 Jul 08
hi, rzelikman? i totally agree with you. 2-3 years old is too old for potty trainning since we normally send children to the kindergarken after they are 2 years old. diapers are with so much harmness as you said, especially in summer. so, i would potty train my child as soon as i can. i do think it is good for both parents and babies.

• United States
22 Jul 08
I see your point but I have to say it should be in what a parent feels comfortable with, I have one child who started early with it, while most of mine were finished by 2, and I also have one child that simply refused because she wasn't ready. I refuse to force my child to do something that she is not ready for because it can cause emotional trama. But it is all up to the parent of the child in question. TO you you feel comfortable starting your child out when your child starts walking, but to your friend she is comfortable with the assessment that anywhere from 2-3 is good. Bottom line her kid her decision your kid your decision, my kid my decision. You have to let your friend do it at her own pace. Me I let my kids do it at their own pace because I would never force them into something that they are not ready to do or face. You might make it longer if you try and push to early.

• United States
22 Jul 08
I am helping potty train my 2 yo grand daughter and had trouble encouraging her. One day we were walking and a little dog we see all the time, we were walking with it and it stopped and went potty in the grass and she asked about what "cilla" the dog, was doing and I told her. Later that day, I told her "let's go potty" and shs says "like Cilla?" and I said "yes" and she said "In the grass?" and I said "yes" (took a chance!) and she runs to the toilet! I help her on, she goes, she squeals "I did it by my self!". From then on, all I have to do is say "Cilla, do you have to go potty?" or "Cilla, let's go potty" and she runs to the toilet! No problem.

• United States
22 Jul 08
Potty training depends on the child. Pediatricians will tell you that you can't really train a kid until he/she is ready, and most moms know when that is. One of my nieces walked at 9 months, and soon after that was sitting on the potty because she wanted to do that. Except for an occasional accident, she was trained by about 19 months. My son hated having wet or dirty diapers from the time he was born, so his doctor said he would be easy to train. The doc was right. By 12 months, my son was taking off his diaper and bringing me a clean one. Not good when there was a mess in it. (He also walked by 9-10 months even though he was a real butterball.) He was fully trained by the age of 2 - even to the point of getting up in the middle of the night by himself to make a trip to the bathroom. I felt like a horrible mother when I realized that he was able to do that without me ever hearing him. But I've known kids (usually boys) who were not ready at 2 and who were still wearing pull-ups at night at age 4.