What is your favorite cookbook?

United States
September 17, 2008 9:09pm CST
I love to read cookbooks not just for cooking but just for a good read. I love the 101 things to do with "" cookbooks. They have one on Ramen Noodles, Cake Mixes, Dutch Ovens, Meatballs and more. They are great places to get ideas. What is your favorite cookbook?
6 responses

• United States
18 Sep 08
I ahve an old Betty Crocker cookbook from like 1980. It is a old standby. I really think this is my favorite cookbook but I dont use it much anymore. Most of my recipes I find online and use those things. Everything I have ever made from this betty crocker cookbook is very good though, you reasally cant go wrong with it.

• United States
18 Sep 08
I have that too and I love it. They came out with a new and updated one and I almost bought it. It is great that the cookbook is full of things that are natural and healthy.

• United States
17 Nov 08
I'd say the Taste of Home and Quick Cooking...they are more of a cooking magazine but I love to read them. I also like the Betty Crocker books...I have one like the one my Stepmom had when I was young. [b]~~MY OWN PEACE WITHIN~~ **STAND STRONG AND BELIEVE IN YOURSELF**[/b]

• United States
2 Dec 08
I do get the Taste of Home magazine. When I get it in the mail my kids and I lay on the floor and read it together. It is fun for me and making great family memories for all of us. Definately a thumbs up!


• United States
1 Oct 08
I do search the internet when I want to make something new, but there are times I just want to sit and read a cookbook. It gets my mind flowing about all the things I can create.


• United States
1 Oct 08
Finaly this year I got the taste of home magazine. It is a great magazine but the subscription rate was higher then I wanted to pay. I love every time it shows up in the mailbox.


• United States
1 Oct 08
There are so many different kinds of cookbooks. Each one has its own specialty. You should look for one. You can often get them for very cheap or even free if you look hard enough.

• Gloucester City, New Jersey
18 Sep 08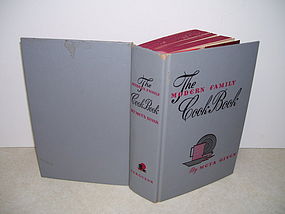 I have two that I love. One is from the 1953 that I got from my aunt (she had gotten it for her wedding in 1959) by Meta Given called The Modern Family Cookbook. I just love it - and I don't even use it often, maybe once or twice since I got it. I've included a photo of it.

The other one I have is called Desperation Dinners by Beverly Mills and Alicia Ross. Full of last minute meals you can make when you only have about 30 minutes to put something on the table. They have a website: http://www.desperationdinners.com/ that has loads of ideas if you can't find their book.

I just love cookbooks in general. I have so many of my mothers old cook booklets that came with cookware or silverware or that were put out by the local utility companies or even tourist recipe books from her travels. Some are from the '30s. I just love cookbooks in general! You'd think I would also love to cook, but you'd be very wrong!! I am a freak about the books and about cookware and cooking gadgetry, but cooking, preparing a recipe, etc, is just NOT what I enjoy doing. I have no idea how I can have such opposition within myself, but I do.


• United States
1 Oct 08
When I was younger I collected some recipes for a church project. I called everyone in my family and they all sent me their favorites. It is one of my treasured posessions now. I can remember eating these meals when I visited my family and now I can make them for mine.