The best thing

United States
November 9, 2008 10:40am CST
My 10-year-old granddaughter and I go to the library every week. She always has 2 books with her in case she finishes one of them. She even reads in the car on the way to anywhere. She takes out 8 to 10 books at a time with her own library card. She tells me that her favorite thing to do is go to the library with me. She has made friends with a librarian, and they recommend books to each other. When we leave the library, my granddaughter tells me how wonderful the librarian is. Do you encourage the love of reading in your children or grandchildren? We love to read together, each sitting with her own book.
9 responses

• Philippines
10 Nov 08
thank you for sharing this, i think it's wonderful. =) one of my best childhood memories is waking up to find a new book beside me. my parents couldn't afford much, but they did try to buy us books as often as they can, even if these were mostly the cheap kind that vendors sell on the sidewalks. i don't think i noticed the quality of the materials used to produce the book, as a child. i only remember the stories making my days magical. =)

• Philippines
10 Nov 08
yes, i wish there were more accessible public libraries here in the philippines, especially in the provinces. but then even in schools, students have to share schoolbooks.

• United States
10 Nov 08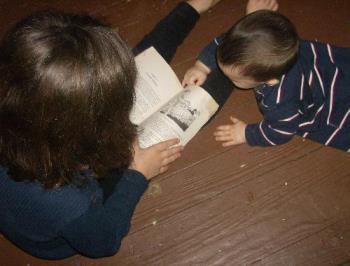 I'm not so sure how I encouraged it, but my children do love to read. Actually my daughter who is about to turn 6, thinks the best thing about her is her reading skills. She's in first grade and was tested above 3rd grade reading level. She actually wants to read chapter books, like the kind my 11 year old reads. Even he is growing up from his current books like Goosebumps and things like that and wants even bigger books. Even my 2 year old will sit for a few hours everyday looking at books. I went to Walmart on Friday and bought them each a book I am saving for Christmas gifts. The cashier commented on how she's so proud when she sees parents buying books for their kids. I honestly hadn't thought all that much of it, my kids just love to read.

• United States
10 Nov 08
LOL, I wish I knew what I was doing. I guess it's just the simple fact that I don't make a big deal out of it. I supply them with books, and that's that. I personally don't read all that often, actually the only books I've read over the last few years have been the Harry Potter series, but I suppose it could have been the fact that they were quite young while I was reading those books, and they just learned from example that reading is fun. But I don't make a point to force them to read, I've never really ever told them to pick up a book, they just do it on their own. I honestly don't even take time to read to them very often, it's sort of just every once in awhile. They read to each other a lot, and they have other's read to them like grandparents and such. So perhaps their love of reading comes from the lack of pressure put on them to do so.

• Indonesia
10 Nov 08
Hi mcat19, Thats wonderful. The more knowledge fills with book, the more humble she will be. Remains my of my childhood sitting in the floor of the library and reading Thumbelina.

my childhood wasn't too bad.. happy posting always. xox'dian from bali island.



• Orangeville, Ontario
10 Nov 08
My 15 year old daugfhter loves to read, though she used to hide it. Apparently it wasn't cool to be a reader with the school kids. I think her passion with reading came from seeing me reading a lot when she was a child because since my second daughter was born I have taken up writing and don't read as much. She is not as much of a reader, though I do encourage (force is too strong of a word) her. She has a little trouble finding what kind of books she likes. My 15yo is reading the "New Moon", the second in the Twilight series. At Thanksgiving (in Canada it's in October) we were at my sister's. I asked my younger daughter were her sister was and she said she was out in the car reading. I don't think she stayed out there for very long but if she was bored I am glad she found something to do because I am the only one in my family with "kids" and they don't like attending family events. Anyway, when we were getting ready to head home she said, "Come on. I have to get back to my book. Bella is calling me. I have to find out what's going to happen." I am so glad she has become such a great reader. I really believe kids pick up the habits of their parents. My father was a big reader, a very big reader. I was a big reader and my older daughter is now. But since we got computers, they see me on the computer all the time so now they are on the computer all the time. My kids always get at least one book for Christmas.

•
9 Nov 08
Hi mcat19, It is so wonderful to know that your 10 year granddaughter loves to read, a little bookworm eh? I am so pleased for her as now days there are too many children playing video games and spen to much time of the computers and no reading at all. I have no children but I love reading as well, I can lose myself in a good book. Tamara

• Canada
9 Nov 08
I think it's wonderful your granddaughter enjoys reading so much. She will no doubt do well for herself. My grandson prefers to draw rather than read, however he can read as well when he wants to.

• China
10 Nov 08
Sure, I encourage anyone to read more books, because I like reading and I know the good feeling of reading and learning something new. But as a matter of fact, I don't like to communicate with others during the process I read, I prefer communicate with them after I read. I go to the city library once every weekend, but I never make a friend there, because everybody seems too busy reading their books. Maybe children like to discuss with others when they find something new in the books.