how to sustain a heartbreak?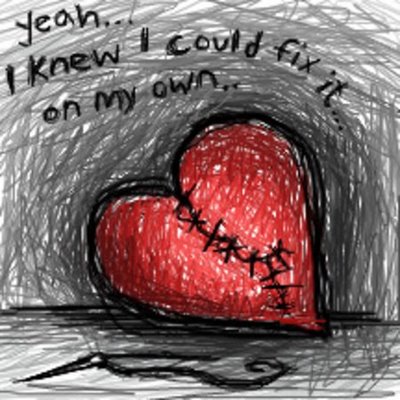 Qatar
December 14, 2008 11:13am CST
Romantic conversations have been stopped abruptly. Seems that you lost a part of you. Cant seem to stop thinking what went wrong. It has been never easy to sustaining heartbreaks after a long romantic relation. Any tips on surviving a heart break? besides from accepting the reality rather than living in a make believe world, thinking that time will is going to turn back. It will only make it more difficult for us to accept this fact, as time goes on. Hope to hear from you my fellow mylotters! have a good day and happy lotting!
8 responses

• United States
15 Dec 08
Grace it will all work it self out. I know that it hurts bad. It took me a very long time to get over a man that hurt me. And then there are somedays that I still think of him. And yes the pain comes back for a min. Then it is gone I do remeber the good times and not the bad. You can not turn back the clock no matter how hard you try. Your friend onlydia. Take care my friend

• Qatar
15 Dec 08
hi Dia dear..how are you? yeah, when someone did something wrong wd us, it takes time to heal all the pain, but we should move on with our life. Time heals all wounds. Thanks for sharing my dear. Happy lotting!

• Qatar
15 Dec 08
hi there shazy! you dont have to feel sad my dear as it's only a topic/discussion!


• India
15 Dec 08
Can understand. Think of all bad qualities the person had. Think of all mean things the person had said to you when you had a fight. Think what a hellish life you'd have had if you had stayed with that person. Divert your mind by spending more time with true friends. Hope that helps. All the best.

• Qatar
15 Dec 08
hi shar_25 how are u? nice to see ur responce

yes, divert into other things and focus on one self.... well, im not mending a broken heart now my friend....hahha

sudden, i thought of this topic so i posted it.. Happy lotting!

• India
15 Dec 08
Hi, Its really hard to accept things when it comes to love relationship. Because it is that pure. when any mis-happenings occur, we don't tend to concentrate on the solutions rather we keep thinking about the past.This is the obvious situation prevailing. But even though, it may be a troubled-pleasure to think about the past memories. Soon if we want our mind to switch over , it is really tedious. So what i suggest you is concentrate your mind on any of your favorite activity may be painting, drawing, achieve some thing in that area. I hope slowly you can come out of that feelings. I don't know your exact situation. I guess my post will bring change in you. Don't worry about anything.. every thing will turn your way. gud luck.. Take care :))

• Qatar
15 Dec 08
hi there thanks for dropping by Welcome to mylot and enjoy ur stay! happy mylotting! Grace

• Philippines
15 Dec 08
Hello to you. There are many people in the world who are heartbroken right now. I know it is not easy to accept the truth. It isn't because I know the feeling of being in a long time relationship and then it turned out to go wrong and your loved one finding another person. You may asked, what went wrong, it will take many days, months or even years to accept the truth. I know the pain is always in our heart. Just cry and cry until you get tired and later you will realized that it is useless because even if you cry a million times it wouldn't change the fact that you and that person are done. Just cry until you will tell yourself you are already stupid. And most importantly it is better to pray. Pray for God to help you handle the pain. And also go out more, go to your friends, talk to them. You can also change some way of your living, improving your looks more will make you good, better. Day by day the pain will subside and you will move on.

• Qatar
15 Dec 08
hi there marymarj precisely! very well said.....u deserve a best responce! Happy mylotting

• Canada
15 Dec 08
it takes time, to heal the wounds, actually I found that remembering the goods times, was helpful.

• Qatar
16 Dec 08
[b] absolutely winterose! Thanks for dropping by.[/b] grace

•
15 Dec 08
I think that recovering from a long romantic relationship is one of the hardest things to go through. Many people seem to cling onto some sort of hope that things might get better or they might get back together after a break-up. I personally feel that the healthiest thing to do is to surround yourself with good friends, accept reality and get on with life. I do know that this is easier said than done, but as an outsider it is easier to see what is best for somebody

• Qatar
15 Dec 08
you are rite. this is the hardest thing to go through.... its easy to say some words to someone thou u feel that he/she is trying to cope on a heart break. Accepting the reality is the best way and go on with life. THanks for sharing. Happy mylotting!

• United States
15 Dec 08
Hello grace! Well heartbreak exists in every relationship. Whether we like it or not, it will really happen someday or some other time. All we have to do is move on and try to accept the reality that you will not be together again.

• Qatar
15 Dec 08
yeah! accepting and forgiving. Thanks once again.. Gud morning aisa!

• Philippines
15 Dec 08
Hello Grace, I wonder why do you have to sustain heartbreaks, sorry whatever happens to your relationship, Yes it was never easy to be heartbroken but I believe that time will do the healing we can never get rid of heartbreaks over night just let it pass make yourself busy if you remembers what happens think of another and be back to what you are doing as i have said you can never get rid of heartbreak over night don't sustain it let it go time will do the healing.

• Qatar
15 Dec 08
hi warlordsky FYI, im not a broken hearted my friend...

yesterday, this topic suddenly crossed my mind so i posted it, who knows anyone here has dis kind of problem so it can help him/her by reading or sharing some of our thoughts..rite? anyway, thanks for sharing happy lotting!