water droplet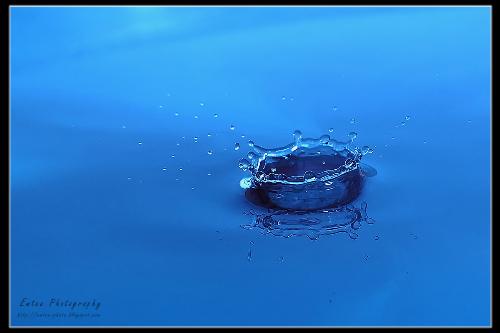 Romania
June 21, 2009 3:28pm CST
hey, guys! here's a photo from an experiment i did yesterday... I tried to photograph water dropping into a bowl filled with water... Took about 200 shots, but only 3 were good:( That's how it is with subjects that last a blink of an eye (or even less). Thanks for watching, and please do leave a comment. Thank you!Cheers!Tinel.
8 responses

• Poland
23 Jun 09
Seriously WHAT THE #$&*!! Good camera? People, listen, it's like going to restaurant and after delicious meal saying to chef "it was great, i bet, thanks to super-duper kitchen you have there" It's this guy's photo and thanks to him it's that good. Of course there is matter of having good lens, but still u can borrow one or even make photo like that with kit. I've seen astonishing photos, getting Daily Deviation on DeviantArt made with camera for 40$ or even single-roll film camera with only option of pressing single button and I've seen galleries of people with Canon 1D MII or even Hasselblads or Leica which were pooooor. It can be really nasty to say that someone's photo is good bcs he's got good camera. __ Cool photo. I prefer later phases of water drop tho. 3 of 200? Whoa! I did that once, but did not take that many. But i'm not into macro, so i don't do it anymore. Try to dropping drop of ink into bowl of water (or vice-versa) - these are awesome photos!

• Romania
24 Jun 09
lol, thanks for the comment! :) I have some photos with some water mixed with ink. it quite sucks that mylot doesn't allow a series of photos to be uploaded. it seems kinda gay to start 10 discussions with the same subject, but different photos. and, yes, it's not macro photography...it's close-up photography...but people do tend to confuse them, and they are, usually, put in the same category. anyways, thanks again for the comment and for looking! cheers!


• Poland
23 Jun 09
Pro photographer or very nice camera?! If you were to get camera for approx. 10 000$, would you make astonishing photos with it, while being total ignorant in photography? I DON'T THINK SO! If he had better camera it would be 20 of 100 photos not 3 of 200. Cuz better cameras usually (not always) make more photos per sec. To say that to photographer is to insult him, dammit _


• Philippines
23 Jun 09
yeah! you have an amazing photograph. i did love it...i wish i will find time to make one.


• Australia
21 Jun 09
Nicely done. For those who want to know how to do it (or want to get a better hit rate than 3 in 200), have a read of my Intel at http://www.qassia.com/phographing-water-droplets-and-other-things.

• United States
21 Jun 09
I love the picture! You must have a very nice camera to take such a good picture! Sounds like you took lots of shots for just a few good pictures. Looks like it was worth it though. The pictures is fabulous! I just bought a digital camera recently and I'm learning how to take good pictures. My camera isn't that fancy so I know I won't be able to take some of the pictures that I'd like to.