staycations

Canada
July 16, 2009 1:20pm CST
a new word has come about lately. its staycation. it is having a vacation but spending it in your own city or one close by. with the way the economy is, many people are choosing to do this with their holidays. how aboutyou? could you be a tourist in your own town or a large city close by?
11 responses

• United Kingdom
17 Jul 09
It would be better for me to go on a vacation because staying at home I would find things to do. I would be able to go out for days to local attractions but that wouldn't be as wonderful as visiting a different country. Here is an example: Day 1. Glastonbury for buying some new crystals and climbing the Tor, an hillside with an ancient building on top of it. Day 2. Minehead for a day at a sandy beach with lovely views. Day 3. Wells to see the cathedral and visit the interesting museum. Day 4. Bath to visit the thermal spa Day 5. Exmouth for a river boat trip and shopping in Exeter. Day 6. Bourton in the Cotswolds to see all the old cottages. Day 7. Cardiff to visit the castle.

• Omagh, Northern Ireland
16 Jul 09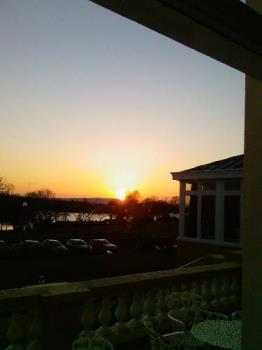 Living in Northern Ireland,I'm in quite a central area,with both capital cities of Belfast and Dublin within a 3 hour drive of here..I'm about 45 minutes from the beaches and resorts of the Atlantic coast in Donegal too,so a Staycation is quite doable for Me!Here's a few photos from the Area..

• Omagh, Northern Ireland
16 Jul 09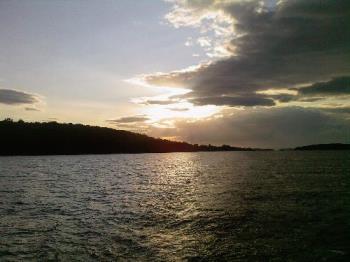 There's a Marina on this Lough (Lake!) not a Mile from where I live,and I'm looking down on another one at work!

•
11 Aug 09
Yes, I think I'd be happy doing it. And it does make sense doesn't it, especially with the lack of money that we all seem to have at the moment. I'd be quite pleased to stay in the UK as there is so much of the UK I have not yet seen, even though I have lived here all my life!

• United States
10 Aug 09
This wouldn't work so well for us. We have a dog and it's difficult for our kids to get by here and let him out or feed him. One daughter works an awful lot and the other has a baby and doesn't live in the immediate area. For the person or persons who wants to get away from the same routine this would be a good idea. I get offers each month to stay at one of the local casinos for the night or weekend. Have never taken advantage of this offer. Just easier to stay home.

•
19 Jul 09
I live on the Isle of wight so I can have a pretty good staycation here as there are lots of tourist attractions though I've seen most of them, and there are beaches all around us. At the moment the weather is terrible but only last week we were having a heat wave so that could begin again at any time (fingers crossed).


• United States
17 Jul 09
I've done this long before it was in style, or even had a name. I either spend the time with my family getting caught up on things I wanted to do or take a couple of day trips during the week off. Either way, it is great to have time off from work and relax. I rarely have actually traveled on a vacation.

• United States
16 Jul 09
Hi Cher, Yes I could take a nice staycation here in Pa. There are many things to do and see here in my area and in the surrounding areas too. As a matter of fact my husband and I just went to a local coal mine museum and a tour of the mine. I had never been in the coal region and it was an amazing experience. There was a celebration that day and it was free to get into the museum and the ride into the mine and the tour was cheaper than normal too. This weekend we are going to the Chrystal Cave for a tour too. Hoping to see beautiful crystals in their natural surroundings. They are fun and a natural way to cool off and get away from the heat, it is around 51 degrees in the caves. There is so much more to do here that we decided to take 3-4 day weekends this summer to enjoy many of these spots in our own back yard. We also have Maryland that is only 2 hours away and they have beautiful beaches and delicious crabs. Can't wait to go there. It is so much more affordable than going away for a weeks vacation, paying for all the hotels and food... Hope you enjoy the summer.

• United Kingdom
16 Jul 09
Wow this word is becoming global as I heard this word 'staycation' a few weeks back when I said that I was going to Bournemouth in my country they said oh you are going on staycation and I asked them to explain what it meant and yes you are right, due to the failing economy and the rising recession people are indeed staying in their own country for their vacations/holidays. With flight pricing soaring and holidays being expensive, it makes perfect sense. Although having said that in the UK you can't guarantee the weather! So if you do want the weather then it's hit and miss and the weather is too unpredictable. I don't fly much anyhow so to be honest, it doesn't change a thing for me.

• United States
16 Jul 09
Yep, sounds like a good idea to me! A lot of times we miss cool attractions in our own area. Most larger areas have zoos and museums that can make great day trips. You can pack a lunch and spend the day and save a lot of money! There are also lots of places to hike and bike. Really, just finding places can even make quite an adventure sometimes. When my kids were little, we used to try a new sport each summer. One of our favorite discoveries was frisbee golf. We grabbed some discs at a used sports equipment store and it was great fun!