How long do you wait for a guy to propose before calling it quits?

Philippines
September 18, 2009 7:48am CST
I could remember a certain experience by a certain person I know, she was with this guy for more than 10years. He asked her to choose a house for them (he paid, of course) then they bought a car together (he also paid too), they had a joint-account from their bank under their names. Everything was perfect and was 'just the way they planned', until suddenly after a few more years, he confessed of having someone pregnant was wanted to married that person leaving her to nothing. Heart-broken and angry she withdrew all the money in their joint-account and spent it all - EVERYTHING! Anyway, my concern is, there are guys (I guess) who don't really themselves as married. Perhaps they're there (having girlfriends) for the comfort of having someone when they need them and having someone to take care of them. But not really seeing that girl as a potential mate or life partner. I am now asking, how do you know if you're a wife type for a guy or just a girlfriend material? How long do you wait for a guy to propose before realizing he just doesn't see you as his wife?
5 responses

• United States
18 Sep 09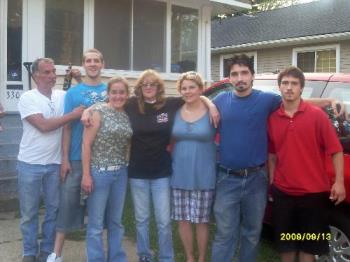 I was with my man for over 30 years before he asked me to marry him. We have 8 children and 12 grand-children. We got married 4 years ago. I did not need that piece of paper between us to know that we were going to be together for ever, We said our vows before God years ago. Just me and him. One of our daughters was very upset when she found out we never legally married, and she was already in her thirty's. So we decided to do it. But for us we already felt married all these years. Ive added a picture of some of my kids here, we had a picnic last week and 5 of them were their for it. Husband is on end in white shirt, and i am in middle with black shirt.

• United States
18 Sep 09
I love that! Kudos to you and your hubby!! I agree about the "piece of paper". That "piece of paper" does not ensure that a couple will be together forever and ever, so people need to think about that one! It's just a legality thing. Marriage is what you feel inside, and what you know you feel for each other . . . it's the love and the teamwork that will keep a marriage successful. Lovely picture of your family!

• Philippines
20 Sep 09
Oh my gosh.. I felt like crying while reading your post. It's good that you didn't at all feel insecure of him not proposing to marry you. I felt so selfish thinking that it's only through marriage that he could really show me he loved me. How foolish was I.

• Philippines
18 Sep 09
i dont know if how long i will wait but if he never ask or propose in me be i think it is alright i seen a movie entitled HES NOT INTO YOU.THERE are part with jennifer aniston and ben affleck.they were live-in also for 10years but they jens broke up with him that he do not believe in marriage or get married and wedding.but they misses each other terribly and she again accepted ben because she cant live without him.ben help her in washing dishes at that time.at the end he then propose to jens and gave an engagement ring.but jens says even they do not get married she will still be there and love him.as what i see we can quit or wait when he will propose to me as long i amm happy with him i am ok then.

• United States
18 Sep 09
I was with my "boyfriend" for 16 years we decided to get married. He proposed to me, but we always knew we would be together . . . so "waiting" was not the issue. We have always kept an open communication, and I think that's one of the biggest factors as to why we've been so happily together for so long. We've always talked about our future plans, family, and everything else . . . we knew each other too well. When we finally did get married, it was a party in which everyone could celebrate with us - and then we continued on just like before we got married. We love each other, but also we make a great team . . . and it is apparent as we have a growing family now. Now, there are some people who have been together for years, but still they don't really know each other - even if they're living together or bought a house together. I would think after some time, the other person would know the intentions of the other . . . unless one has been lying through their teeth the whole time. I would hope that serious couples discuss how they feel about each other . . . so they're not guessing or waiting for things to happen. If one doesn't know how the other feels, particularly about commitment, then they really don't know each other as well as they think.

• United States
18 Sep 09
well i think that i would give him about a year maybe 2 because if i am good enough to take care of him and live with him then i am good enough to be married to and if he doesn't fill that way get rid of him he is not your true soul mate

•
18 Sep 09
If marriage is important to you then the answer is very simple. 'You want me - you marry me'. Until then no living together, no children, no 'husbands rights'. The rest of the Western world today seems to think nothing of changing partners like you change your socks. If you are into that sort of relationship then don't cry when he ups and offs. You have not required him to commit himself so he doesn't. Simple.