whats your pet gonna be for halloween?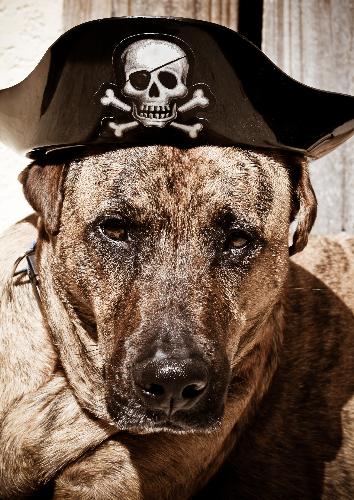 United States
October 27, 2009 12:41am CST
Do you dress up your pet? what are they going to be for Halloween? I don't usually dress up my boy Saber. he doesn't really care to wear things lol he will do it for pictures but thats about it... other wise i would love to dress him up in something. I found a easy halloween costume for him this year though! he is going to be a pirate agrrrr! the hat is my nieces but it fits his small little head pretty good! what are you going to dress your pet up as?
4 responses

• Canada
29 Oct 09
MY dog is big, really big. When I stand on my toes he goes between my legs. I am just 5 feet 10 1/2 in. tall. The vet weighed him for his meds, 134 lbs. He howls when I call him Daddy's lil boy.. He luvs to watch the kids come to the door.. REMEMBER ALWAYS LUV YOUR DOG/ PET, THEY WILL ALWAYS LLUV U...

• United States
28 Oct 09
I have two dogs. One loves everyone, so she'll have a great time greeting all the ghosts and goblins who come to the door. (By the way, we always give out candy with Scripture on the wrappers!) Our other dog used to be wild, and she doesn't like ANY people, so she'll probably hide in the guest room, enjoying some carrots and munching on treats specially prepared for her!

• United States
27 Oct 09
I don't dress my dogs, I think it's rather cruel unless they enjoy it, which very few do. In fact, I block off the dog door and sit on the porch to hand out candy so that they don't spend two hours barking inside the fence, wearing themselves out and scaring the children. A lot of people bring their dogs along on beggar's night and I have biscuits for them!

• United States
27 Oct 09
LOL my pets are goin to be cats and dogs....becuase they are cats and dogs....I honestly see no reason to dress up your pet for holidays etc and I REALLY REALLY see no reason to dress them up on a daily basis..That sort of thing just drives me nuts actually