How many watts does your microwave have?

United States
7 responses

• United States
21 Nov 09
I have no idea how many watts our microwave is, I asked my husband he doesn't know either, its older than dirt, I think its a Panasonic, that tells you how old it is, I don't even think they make that brand anymore, it still works good tho. I've never had a Sunbeam microwave, we do have a Sunbeam coffee maker.

• United States
21 Nov 09
Ok this is a great thing to dicuss but really I have no idea how many watts mine has. See I got my from my Grandmother about 3 years ago and I never asked her what the watts were.

I know it is a Samsung and is pretty nice and I know she always buys brand new so my guess would be at least a 1,000 watts but I could be wrong. Now here is my question how would I know? I mean she gave it to me without the manual so how would I be able to find out? Let me know and happy mylotting to you.


• United States
21 Nov 09
Hi, mom... Maybe you can look on the inside of the microwave and see if the watts amount is printed by the UL tag. I know that our watts amount is at the top of the inside of the microwave. If you can't find it, then look for a serial number. There should be something that can help you to identify the watts amount. I hope that this helps you.

• United States
21 Nov 09
hmm..i really don't know.i imagine it's 700-900. it's an older GE model.

• United States
21 Nov 09
they're actually pretty reliable..we've had this one for years with only a fuse change. ..something they don't tell you about.often when they die,that's all it is.one simple fuse.


• India
21 Dec 09
Hello my friend cream97 Ji, Well, I have LG micro-wave without grill and last time when Service Enginee visited as a curiosity enquired about it's wattage, and wa stold approximatel 1000 Watts. But I am not sure. I will now take you to my Kitchen.

• India
21 Dec 09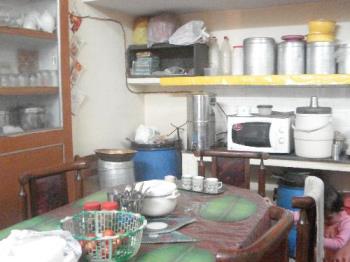 Hello my friend cream97 Ji,
I forgot t up-load micro-wave in my kitchen. May God bless You and have a great time.


• Garden Grove, California
21 Nov 09
Hi cream 97 my almost new microwave is in storage, sad to say, and its a sam sung, like my monitor. Ifeel so bad that we have not got an apartment yet so I could once more use it. It is at least 900 watts and is so nice. I miss it so much as I could do so many things with it. It was, ironically, a gift from the same internet friend of my son's who let us down and reneged on her offer to stake us to three months rent on an apartment in Antioch California so my son could get a job and get us back on our feet. anyway it is really a nice microwave. I do have a sunbeam electric toaster also in storage , its actually Sunbeam from Edison co. for us anyway.

• United States
21 Nov 09
To be honest I don't know. It is an older microwave. My mother in law gave it to me when my husband and I got married 20 years ago and I don't know how long she had it before that so it is obviously quite old I would say it does not have a high wattage because it takes the maximum amount of time to cook everything. It still works though so I am not complaining.

• United States
22 Nov 09
I don't know the wattage of my microwave oven, but, I do know that it's a very strong one. It gets food hot very quickly. Purrs, Catwoman=^..^= & Mija