What a SIGHT!

United States
December 18, 2009 4:30pm CST
I came home today and was greeted, as is normal, by the cats at the door to the rest of the house, I keep them out of the front room in part to have an airlock effect of keeping them from getting outside. Well, today I saw something strange... I looked again, then a third time. Last night I had gotten a can of tuna from the pantry and found there were only 2 left in the shrink wrap plastic from Sams, so I took it off and threw it away. Some how, I have no idea HOW, Rygel had managed to get it ON him! I went to get the roomie's camera and took some pictures, but I don't know how to download them, so there's no pix attached, but he had his head and one front leg thru the hole and was well and truly STUCK in it. After I snapped a few shots, I got the scissors and cut him free. That Rygel is a scream! He's such a funny boy. What silly thing has your cat/s done recently?
11 responses

• Daytona Beach, Florida
19 Dec 09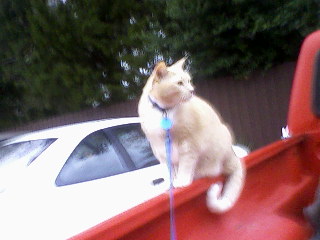 My cat Precious decided to balance himself on the back rail of the truck. We have a pick-up truck and I took him out for some air. Normally he'll sit in the cab but the sliding back to the cab was closed so he stayed in the bed. Well that was until George came out to see us. Somehow he managed to jump to the edge of the one side of the truck and was sitting on the side. I have just the cutest picture of it too.

• St. Catharines, Ontario
19 Dec 09

• United States
19 Dec 09
I hope one day we get to see the pix of Rygel. I had to go to the doctor today for my nerve block shot (I hate them but they do so much for decreasing the pain in my neck and preventing migraines.). I finished brushing my teeth and rinsing out the sink when Willy jumped up on the sink, looked at me and then leaned down in the sink and started "washing" the sink around where I had just washed and rinsed the toothpaste down the drain. I still wonder what was going on in his mind. We set up the tree last night. I got a new seven foot tree for $30 on sale (originally it was $100) and waited until last night so Bill and I could set it up. As we were setting up the lower section, Willy came up and latched onto the top part (it had to weigh about 7 pounds) and started running off with it. I was amazed that he could haul off with something that was three times his size and half his weight. He has a fascination for Christmas trees! At least, so far, they haven't tried to climb it yet. (LOL) They would wind up in the mini Dachshunds pen and the dogs love to pluck hair out of cats. Nothing like having a bald cat for Christmas!! Hug Rygel and the crew for me and my crew of never ending entertainment. It was nice coming home to a laugh. This nerve block shot was a difficult one, I actually blacked out on the table, which is something I had never done before. It frightened the doctor too (He has been my neurologist for 25 years...I would run away with him if I had the guts! He is darling.), he made me lay there for an extra fifteen minutes and then when I got up he checked me up one side and down another, especially since I didn't have Bill with me to drive home. (that's another story) But at least I am fairly okay now.

• United States
19 Dec 09
I have to add one more thing. I had a pop up of the emotions that you can down load for free, and my cursor was over the one that hollers "Hello". Khuay was on my lap snoozing, and when the darned thing went off hollering hello he jumped up and batted the crap out of the screen. I made it holler hello some more and he kept batting the crap out of it!!! (LOL) Nothing like a irked cat that had his nap interrupted.

• United States
20 Dec 09
Oh, Rygel watched me put up my tree - 3 foot black thing - in a cat free zone, he was mitching and boning that he wasn't in here helping! I'm sure he'd be a lot of help. Hummm, wonder if that's why he put on the bandoleer plastic wrap thing, so he could be also decorated! My cats don't pay much attention to the noises off the computer, tho I did have interest when I was on the freekibblekat page and making the cat "meow"

• St. Catharines, Ontario
19 Dec 09
Sounds like Rygel is becoming a star entertainer. Hurry up and get those pics on here!

• St. Catharines, Ontario
19 Dec 09
Oh oh, I made an unintentional pun. Sorry.

• Shingle Springs, California
18 Dec 09
Oreo thinks he owns the Christmas decoration boxes. When they get put away, he's going to need to find a new bed. Jason is still walking off with socks and yesterday he took one of the Christmas stockings upstairs. Tiger just lies on his back in the "pet my tummy" position a lot.

• Shingle Springs, California
21 Dec 09
Tiger likes it to a point, but when the nip is harder than just a love bite, better stop!

• Australia
19 Dec 09
Do you mean what hasn't he done? We have a new kitten and he is the most hyperactive animal I have ever seen! He has broken a few things around the house spread tissues every where along with unrolling an entire roll of paper towel all over the place! My husband has to replace a few fly screens because Hewy has climbed on up to the top! Rygell sounds like a character! These cats do funny things; I have a short video of Hewy stuck in the office bin!

• United States
19 Dec 09
Rygel is one inquisitive cat. My husband is always saying that our cat is the nosiest cat he's ever seen. When actually Sleepy is more like his name - pretty laid back.


• United States
18 Dec 09
yeah, but it will probably be AFTER the roomie comes home so she can do it, I don't know how to down load from her camera and I figured I needed to use the flash (and I want her to be able to see the pictures when I take it out to her later on today!) He was kind of limping, I think it restricted his movement a bit, he was fussing with it, but I think he was over his scare by the time I got home!


• Canada
20 Dec 09
my usually quiet cat finnegan, jumped right up on the the neck of someone as they were leaving my house. I guess he wanted to go out too. I am cleaning the oven and my baby Rugby jumped right in the oven. Good thing it was already clean lol.

• Canada
20 Dec 09
yes he would have been quiet a mess if that crap was in it, but I had washed it all out, and was just about ready to put the racks back in.


• United States
20 Dec 09
LOL somebody's been garbage diving..

funny..um.. the cat i'm fostering is a big girl-we estimate between 32-37 pounds,and she was doing the silly roll belly up on the bed and rolled off (it's a short bed-nothing was hurt but her pride).she was just so undignified the way her legs went up in the air we couldn't help but chuckle about it.


• United States
20 Dec 09
That is funny - Cat once rolled off my parent's bed, she also stretched and fell of the ironing board and off a window sill - and those were only the times I SAW her. She was clumsy, her daughter, Suky, however was an absolute aerialist, she could hit the mark every time!

• United States
21 Dec 09
i don't think i own any "graceful" cats.. the oldest tux has no brakes,he's always crashing into things

food time sounds like a herd of elephants going through here


• United States
19 Dec 09
I can picture your cat in shrink wrap. I don't have any cats right now, but when I did one of them got stuck in the rafters one day. I had no idea how she did it. She was crying a little bit, but nothing out of the ordinary. I had another cat that came up from the cellar and kept crying and trying to get me to go to the cellar. It was like he was saying "wait till you see what she did now." I did and there she was hanging upside down from the rafters. I tried to get her free, but I didn't want to let her hang plus I was laughing too hard, so I had to have my husband come help me.

• United States
20 Dec 09
YIKES! Upside down! Now, I sure can relate to the laughing too hard - that's what happened when Zu got the tape/paper stuck to her flank and she panicked - I had to throw myself at her as she ran by, and by the time she got the paper off and wasn't being "chased" anymore, I still was laughing so hard I could barely calm down enough to get close to her to grab the tape.

• United States
20 Dec 09
Her being stuck upside down in the pipes was funny enough (course if she got hurt it wouldn't have been funny).The other cat going up and down the steps till I followed was funny also. It was like he knew she needed my help.