Oops! I went to sleep with wet hair..Shame on me.

United States
December 18, 2009 8:09pm CST
Does anyone else experience a similar problem: if you go to sleep with wet hair (after taking a shower or bath or what-have-you), you wake up the next morning with a big, frizzy mess? Can anyone explain this to me? Besides putting your hair up in a pony-tail before you go to sleep, what are some other things you do to avoid having the frizziness scare you when you look in the mirror in the morning?

. Showering is something I typically do before bed, as a relaxation thing to get me to go to sleep, and I'm just curious if anyone has the same problem, and if so, what do you do about it?
11 responses

• India
24 Dec 09
This was fun to read. I have been known to do this

I have wavy hair. So when I sleep with damp hair, I wake up with nice looking ringlets and not fizzy hair. Ironically, when I comb it out, my hair becomes frizzy. How sad.

I don't shower before bedtime everyday. But on days when I am not very tired, I do it to sleep better.
Here's wishing you and your loved ones a Merry Christmas!

• United States
24 Dec 09
I don't have very long hair, but my hair usually looks screwed up in the mornings whether I go to bed with it wet or not. LOL I usually take a shower at night, and in the morning as well, so it really doesn't matter what my hair looks like when I wake up...

• United States
22 Dec 09
i sleep with my hair wet when i'm to lazy to get up and fix it. lol

• Philippines
20 Dec 09
I really do not sleep with my hair wet because everybody knows that your hair becomes frizzy and all when you wake up. So what I do is I either take a bath in the afternoon or if not in the morning but not before I sleep. Let me put it this way, I wash my hair in the morning or afternoon but not at night while I can half bath at night but not with my hair.

• New Zealand
20 Dec 09
I do it sometimes, I don't buy the old wives tale that you'll get sick from going to bed with wet hair. I lay a towel down so my pillow doesn't get wet, afetr half an hour or so I toss the towel aside because my hair is pretty much dry. Yeah it will get frizzy though, I don't really do anything about it as I sort my hair out with straightners in the morning but you could try leave in conditioner.

• Indonesia
20 Dec 09
Well, yep...I've got that kind of experience too. I shower and wash my hair and go straight ahead to sleep with wet hair. The result, in the morning I become dizzy. my hair is a mess and my pillow all stlll wet from the previous night sometimes I even sneeze a lot and catch a cold. Now I start to reduce this kind of habit to avoid the bad effect it bring in the morning.

• United States
19 Dec 09
I try to not shower before bed for that same reason, I use to have a hair dryer so I would just dry my hair before bed so I wouldn't have wet hair. If I go to bed with wet hair the same thing happens to me, either that or I feel like crap the next day. If I plan on going to bed around 10 or a little later I'll try and shower around 7 or 7:30pm that what I know my hair will be dry. I don't know many suggestions to the problem except not showering so close to your bed time.

• Canada
19 Dec 09
It's good if you'r only problem waking up after sleeping with your hair wet is only frizz. When I was very young I was told that sleeping with wet hair causes blindness. I don't know where my parents got that old-wives tale, I think they only made it up because they did not want the pillows getting wet. Personally, I haven't had frizzy hair. If you shower again, does that take care of it?

• United States
19 Dec 09
Try taking a shower an hour earlier that way it will have time to dry, blow dry your hair before bed, or put it up in a ponytail. If I don't do any of those things I wake up with a huge poof of a hair, haha.

• Philippines
19 Dec 09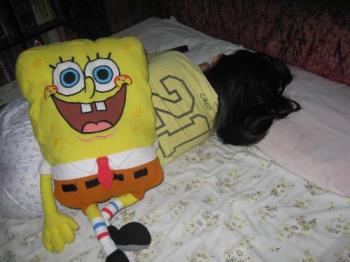 Hi, maezee. I sometimes do while it is still damp. It is a mess when you wake up especially that I have natural curls. Making it frizzy upon waking up might be because of the length of time that it stayed in one position or might be that you kept on turning in your sleep. It is not as frizzy as when you have it dried when you are awake because you know how to style it. My daughter who gets so tired after the hospital duty, takes shower and before her hair gets totally dried, she goes to sleep. I heard myths that it is not good to sleep with wet hair as it enhances the growth of gray hair. Some say that is true but from what I have read, it is not so and remains a myth.

• United States
19 Dec 09
Hi, maezee. I hardly go to bed with wet hair. But, when I just got out the shower the steam from the water is still on the back of my hair. If my hair is very frizzy when it has no moisture to it. I use styling gel on my hair to tame the frizz in my hair.