Any gifts for the garbage man this year?


Canada
December 22, 2009 2:10am CST
As this is the last week that falls within Christmas, I was just wondering how many people out there give something to their garbage man. Or the people that pick up their garbage weekly. It is the time for giving, anyway. Do you give something? I've seen some of my neighbors give an envelop which I pressume contain money. And I've seen one leave a case of beer by the garbage. Or are you of the mind that the garbage men work for the government, and thus are paid handsomely, so they don't need any 'tips' from the people?
6 responses

• United States
22 Dec 09
I leave something out for the once a week bounce.. Seriously though, no I don't tip the garbage guys, they work for our village and get paid pretty well and their job security is well..secure. Plus I don't like my garbage guy, he once gave me a hard time over the weight of one of my trash bags, complaining very loudly about how heavy it was and that he should make me rebag it..he changed his mind about that when I asked him how it could be too heavy for him when I had carried it from the house to the curb without breaking a sweat.

• Canada
22 Dec 09
Even with the recession, I'm sure the amount of garbage that we turn out has not decreased, so you're right their job is well secured! Understandable to leave not tips or gifts. I think they only complain when you're around to see them haul off the garbage.


• United States
24 Dec 09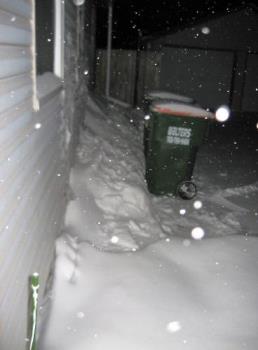 Don't you have garbage cans,bins,containers etc? We have one for garbage and one for recylables. Our garbage men do no lifting. The truck has an arm the grabs the can then lifts it, dumps it, then sets it back where it was. HAPPY HOLIDAYS FROM GRANDPA BOB!!~

• United States
28 Dec 09
LOL I never thought about this. We got to know our mailman pretty well, but that was because he had been the same mail guy for over 10 years, and we'd always be HOME when he dropped the mail off. On the other hand, we never see the garbage guy come! Because they come at about 8 am on Tuesdays, and everyone in my household is at work or school then. Besides..I couldn't imagine walking up to one of them and starting a conversation while they take our garbage.

. But it's a cute idea! Maybe I'll try to linger around the front yard sometime at 8 am just to see if our garbage people are talkative.. HA. And government jobs don't always pay well, do they? Sometimes it's the contrary. I know a lot of people in data entry for various departments of the government..And they don't get paid well at all! But maybe being a garbage man (or lady) is different.

• Canada
29 Dec 09
That's interesting! I always thought that government jobs pay well. Or at least get great benefits. Like 8 weeks vacation or something. And the last time I went to a government building, I saw the employees not really working that hard. Some of those office jobs, I see them just being laid back, making small talks with everybody. I thought if I could just get a government job, I'll be set.


• United States
24 Dec 09
I leave our mail person a card with a small gift card for WalMart each year. But never anyone else. Maybe I should leave the garbage man a card or gift next year. Now you made me feel guilty sort of. HAPPY HOLIDAYS FROM GRANDPA BOB!!~

• Canada
24 Dec 09
Sorry to make you feel guilty Grandpa Bob. But like some of the responses here, maybe not all of them deserve gifts for Christmas. As some are rude, and most are very well paid by union or government. Just thought of giving them something, because I wouldn't like it if the thrash wasn't pickep up for a day, let alone a week. Cheers!


• United States
22 Dec 09
No money this year for garbage men, mailmen, newspaper dude, etc. Don't mean to sound like a scrooge but times are TOUGH!!

• India
22 Dec 09
Since India is a predominantly Hindu country, we always give some money to the garbage man during our two major festivals, that is Deepavalli, and Pongal. Of course this differs through out India, and whenever a local population celebrates a festival, the garbage man is tipped. Usually it is only money, and in some rare cases, a sweet box is also added.

• Greece
22 Dec 09
Hi Bounce, well back in the UK we called them binmen but that term was ousted under some dire politcal correctness law and probably you get locked up these days if you don't refer to them as rubbish disposal operatives. I shouldn't think that they receive any tips as people need to wheel their bins out for them these days. Over here we have neither garbage men or dustbin men. We have men who come along and empty the large roadside rubbish skips when they aren't on strike. They are on strike most of the time though in a ploy to boost jobs for life. No I wouldn't tip them as they do a rotten job and leave half the rubbish still sitting there.