Can cooler bag keep warm?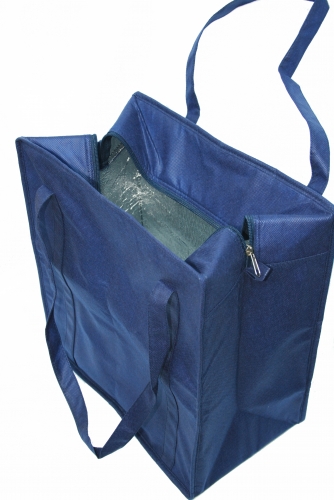 Malaysia
April 24, 2010 3:38pm CST
I've read the functions for some cooler bags, it stated "Keep warm and cool". I'm just wondering can the cooler bags really keep warm? I've used them to keep food cool, they are working fine. But I just don't know if I can put warm food inside the cooler bags, and keep the food warm. Then after this, can I still use them to keep things cool again?

8 responses

• Malaysia
1 May 10
Cooler bags are also called warmer bags. Hence these bags can be used to keep your food cool or warm whichever you want. The bags are lined with insulation material to prevent any heat loss or heat gain. However, they can only keep your food either cool or warm for 4 hours.

• United States
27 Apr 10
They can indeed be used for both keeping things cold and also for keeping things warm, but they can't be used for both functions at the same time. The reason that they are able to do this is because they are insulators. Thus, it can be used to insulate something that is cold against air that is much hotter than the item and it can also be used to insulate something that is hot against ambient air that is much colder than the item. You can go from one to the other frequently and it will not harm your cooler bag.

•
26 Apr 10
I have used my cool bag to keep foods warm, it works very well. The insulation in the box that works to keep your food cool, works equally well if you place hot foods inside.

• India
25 Apr 10
yes it can keep warm you are absolutely right in this context you are absultely correct

• Malaysia
25 Apr 10
Hi kaka, I have a cooler bag in red color. It's a gift for purchasing stuffs of the required amount in an outlet few years back. It's as big as a school bag. It serves its purpose really well either keeping food cool or warm. I like bringing it along when having long journey drive. I keep cold and iced canned drinks in it. The kids, my husband and I can enjoy having the cold drinks at any time during our journey under the scorching sun

We can put either cool or warm food and drink in the bag. The bag is well designed to hold the temperature of the stuffs in the bag for certain period. Therefore it is wise to keep food and drink with the same degree of cold or warm in it. I sometimes put another container of ice cubes in it to prolong the time of the cold of it

Happy posting



• Boise, Idaho
24 Apr 10
I think you can re-use them. I do.

•
24 Apr 10
I think that, because they're insulated, they work to maintain the temperature of what you put inside. So, you can use them for either hot or cold (tho' obviously not immediately after each other as the bag itself will be either warm or cold at that point) but its ok if you just let them return to room temperature.