Getting Huge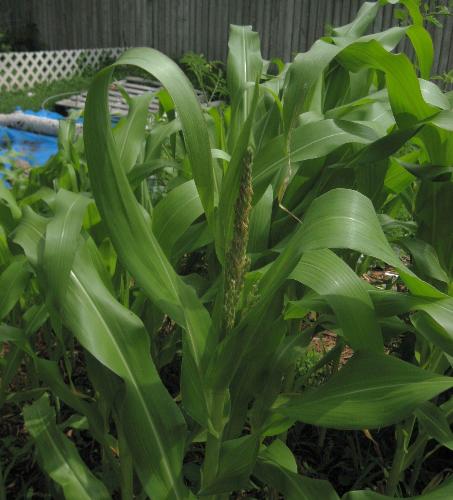 United States
July 5, 2010 3:20pm CST
This photo shows my sweet corn plants. Way beyond knee high by the 4th of July. Plus they're getting tassles formed already. Won't be too long now for some roasted corn. I love it BBQed each fall too. Especially when I go to the State Fair. Mine is good, but there's nuttin like Fair foods. What's your fave food at your State Fair etc? Mine is actually Funnel Cake with fruit topping, usually apple slices. HAPPY POSTINGS FROM GRANDPA BOB!!~
7 responses

• United States
7 Jul 10
Looks like yours are doing as well as mine! I dunno hubby didn't think they'd take off as well as they did. My neighbors started theirs a few weeks before us & theirs are plum 5ft tall! We usually don't eat
@
state fair too expensive! We stop at a restaurant afterwards instead. Though we do buy the traditional cream puff for everyone & a 6 pack is $18!


• United States
7 Jul 10
My corn is the same, way beyond knee high! I can hardly wait to taste it! This is much better than last year when out of 6 corn plants I got only 1. My green beans are finally flowering now so I'll have beans, too. I haven't been to a fair for so long! I loved cotton candy when I was little but that's about all we could afford. I've never tasted funnel cake but everyone says it's wonderful. I've heard of stuff like fried Twinkies that sound horrible. Oh wait, I like those Belgian waffles with powdered sugar, those are great! And corn dogs, of course. But my fair days are long over.



• Garden Grove, California
6 Jul 10
hi grandpa bob oh corn on the cob for sure, and also deep friend zuccinis too.so good. but ours w as a county fair as we live to far away from the California state fair without a car. oh i love roasting ears and when I was growing up we would often eat four or five ears at a sitting. odd though we never got fat as we got all sorts of exercise just caring for our g arden and our corn patch melon patch and our o

rchards. my dad never did anything on a small scale.we sold a lot of resh produce to town people.



• Philippines
5 Jul 10
Hi webeishere, we don't have state fairs in my country but we do have fiestas all year round. Every town or province has a particular specialty. So, we have parada ng lechon (parade of roasted pigs), roast corn, puto (rice cake), strawberries, milkfish, and all kinds of fruits and delicacies. I do not have a particular favorite but I love eating.