I made this for my sister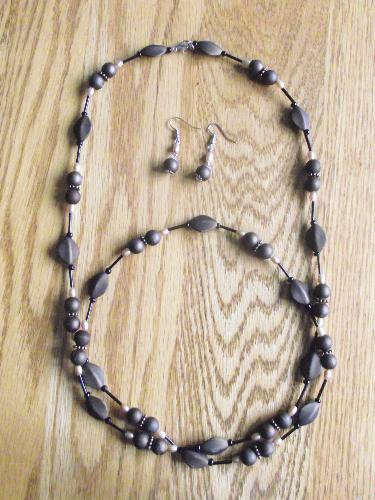 Canada
9 responses

• United States
6 Dec 10
How beautiful! I used to make jewelry, but now my daughter manages to steal all my supplies. She actually has more time on her hands than I do, so I really don't mind as long as she takes care of everything and picks up after herself. She has made some really pretty stuff. She sells her stuff at a local boutique and makes some spending money for herself. She is only 13 and quite the little business woman.

• Garden Grove, California
6 Dec 10
hi nadinest1 I used to do it a long time back, and am thinking thatsa hoibby I could do here too. You are very talented and Iimaine you could actually sell these to others for a nice little business too.You have given me an idea, I want to be creative but did not'know where to start. I think I have seen places to buy the things I need' to start with.




• Garden Grove, California
6 Dec 10
typos hoibby is hobby I imagine not Iimain missed those in editing

• Canada
7 Dec 10
Actually, these beads were in this exact order on a few strings in Walmart. My sister liked the way they were placed, so I thread them on jewelery wire and put on clamps...and there you have it. As simple as that. I guess I made the earrings from a few of the beads too.

• United States
8 Dec 10
Although I really like handmade jewelry, I've never been able to make it myself. That said, I think that the necklace and earrings that you've shown here are beautiful and I would really like to have a set like that myself. When I first met my in-laws, my mother-in-law made a lot of jewelry and I do have a bracelet that she made for me, but she has since quit making jewelry and it makes me sad because I would love to have some more jewelry that she has made.

• Canada
10 Dec 10
I like making jewelery....although I don't do too much...it is quite fun.

• Philippines
20 Dec 10
Yes, I am into jewely designing. I also sell the jewelries that I made. I started in 2007 and sold the pieces to my co-workers, friends, and friends of friends. I didn't have a formal training. Deciding to make my own jewelries resulted from my passion for jewelries. I used to spend a lot on beaded jewelries so I decided to design my own, that way I can have a unique jewelry for a lesser price. My friends like my jewelries so they ordered some items. I also participated in bazaars. I do this craft on a part-time basis since I have a regular job. It is so fulfilling to design jewelries. It makes me happy to see my finished products. I opened an ebay account to sell the items online but I still have to figure out how it works. The jewelries you made for your sister is awesome! Have fun designing jewelry and enjoy mylotting :)




• United States
5 Dec 10
I can't wear jewelry, so I don't make it. I do like to write and draw and play video games.

• United States
5 Dec 10
That is very pretty and will make a great gift for her and mom as well. I am not into making jewelry, but it does sound like fun to a certain extent. I may try it after the first of the year. Right now I need to be busy with finding gifts.