What is the one food or dish that you eat the most each month?

United States
January 18, 2011 1:17pm CST
We all have things that we like to cook more often then other things, which means in every household there is a food that is eaten more often then others, or perhaps you frequent a fast food restaurant for your most frequently eaten food. So what is it that you eat the most each month?
9 responses


•
8 Feb 11
Curry is a generic term to refer to Indian style food cooked in a spicy sauce. There are lots of different kinds. Today, for example, I am having Keema which is made with minced beef or lamb. It's quite versatile - because most things can go into a curry and you can have light, mild curry sauce or the kind that blows the wax out of your ears!

• Philippines
20 Jan 11
For me it's definitely eggs. LOL. If i'm to lazy to cook a real meal, then I'll probably just make a scrambled egg. hehehehe. I love eggs, you can do all kinds of dishes you want, it's easy to cook, plus we never run out of it! LOL!


• United States
19 Jan 11
Tacos. We have tacos every Tuesday night and call it Taco Tuesday. I sometimes eat tacos on other days too, but not like the same kind I have at home. Sometimes I will go to authentic Mexican restaurants and get authentic tacos. The kind we have at home are very Americanized, ground beef, seasoning, sour cream, lettuce and cheese. In a tortilla or a hard shell. I love Mexican food.

• United States
19 Jan 11
I eat alot of soups and chili especially during the winter months. I live by myself so I make a big batch then my cooking is done for a while. I actually freeze containers of it and take one out when I want something quick and don't really feel like cooking!

• United States
18 Jan 11
me being puerto rican I have to say it would be rice and beans and pork chops with an avocado. It is one of the dishes i grew up with and we all love grandma's cooking it seems like no one can cook as good as grandma. I think it will always remain one of my favorites.

• Philippines
5 Aug 11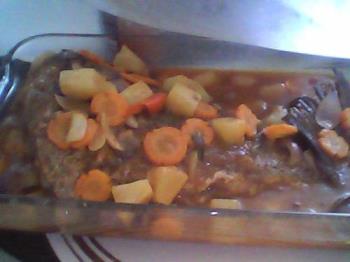 I eat fish the most. I just love fish and would die if can't eat fish

love cooking fish and even when eating out I'd order fish first. I prefer sweet and sour fish dish especially when eating in Chinese restaurant. I think they make the best tasting sauce for sweet and sour fish dish.


• Philippines
26 Jan 11
I have observed that for this month, i had a liking of eating pochero, the Filipino dish composed of boiled pork , with lots slices of cabbage , wedges plantain or potato or pechay, seasoned with fish sauce . I would always order it thru our utility man who buys our lunches. I love slurping its soup . Maybe it's because of the weather - it's cold and rainy always.

• United States
25 Jan 11
Mine is spaghetti and meat balls. I have a three year old and this is her favorite meal. She even eats a meatball. I make it about once a week it is a pretty easy meal and she eats it so that is a plus. I am getting pretty good at the meatballs as it is a family recipe from my husbands side they are pretty easy and really good. It is the one thing that the leftovers get eaten as well. We have really been trying to eat out less and my daughter makes this easier as every time I ask her what she wants she tells me whatever it is at home that I can make her. I am actually getting better at cooking dinner every night without minding so much, I feel a lot better as well.