they held a revolution in Egypt...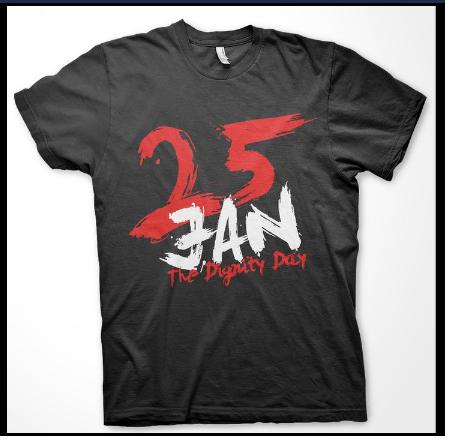 Lancaster, New Hampshire
February 13, 2011 10:12am CST
........and all I got was this t-shirt. No...really, I am getting the t-shirt. In a few weeks anyways, when I can afford the shipping. The guy who designed it is sending me one on the condition that I pay the shipping take a pic of myself wearing it so he can use it to promote his work. It's worth it I think, it'll be a little piece of history. More over though it speaks volumes of the mindset of the youth over there. This was a young man, a graphic designer, who was in the protests (even took a rubber bullet in the back early on) and has now decided to capitalize on it. He genuinely seems to "get it" too. He and his friends share a definition of liberty that is very much like our own. Freedom of speech and opinion, religion, government minding it's own business and not regulating every aspect of people's lives. It was a very refreshing and interesting conversation. ****not an actual advert**** I have included a pic of the shirt because I think it's actually a pretty cool design and a link to his work.
6 responses

• United States
13 Feb 11
That's a great shirt! I hope Egypt's struggles turn out well. The military has just disbanded the parliament and I'm not sure if that's good or bad. Although I've heard that the protests were orchestrated, I'm still proud of the young people who took part in deposing that awful, oppressive dictator. I wish the people of the U.S. would be as brave.

• United States
15 Feb 11
People in developing nations always revolt successfully against their leaders when they conclude a leader is not serving their bets interest, These people practice democracy to an advanced degree and often have problems with their government only when their government is propped by some so-called developed nation. I wish the people of Egypt and all African nations good-luck and Godspeed in their quest! Those days of the Chieftan Presidency are gone!

• United States
14 Feb 11
There's only one thing that can being those types of freedoms and limitations to government, the division of power. Checks and balances on power and offices. Nowadays even many in the U.S. have forgotten that and we see the division lines blurring..


• United States
14 Feb 11
Cool. I think that that is cool that you are able to get a shirt out of this. I am glad that the Egyptians got what they wanted.

• United States
14 Feb 11
I will check out his facebook page...I hope for the best in Egypt. I do not think it will ever be a democracy however. No one there has any experience in this form of government. So far they do not want any outside help either...Can you blame them?