Car troubles in the middle of the highway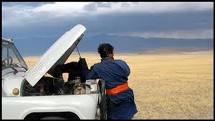 Canada
February 21, 2011 1:52pm CST
So on my way to work this morning, my van just died on me. I was able to drive it to the side of the road, but I couldn't completely get out of the way. So, cars still had to slow down to avoid my van. I caused some traffic on the highway! Aside from feeling cold while I stood beside my van, I endured the yelling, the honking, and the angry stares of drivers getting pissed off because I was causing them a few seconds delay from their commute. The question is, if you've ever been in that situation? Wherein you are standing by the roadside feeling all red for causing all the traffic? If not the same feeling, how did it make you feel? Or are you part of the commuters that get agitated seeing somebody blocking the highway and causing traffic? Do you yell out, honk, or wave unfriendly gestures? Or are you actually part of the few that feel sorry for the person also having a bad day by the side of the road?
8 responses

• United States
22 Feb 11
That's terrible! I hate to hear you suffered such an ordeal. People can be so cruel! Like you could actually help your car breaking down where it did. What do they think..that you could lay an egg and hatch a mechanic? Geesh..I would have felt bad for you..noway I would have honked or yelled. I might have even blasted someone out for doing so if I saw it.

• Canada
26 Feb 11
[i]Where were you Jen when I was standing on the road?

I could have used you to blast people who were sending me unfriendly gestures. Of course all this while I try to hatch a mechanic.[/i]

Yes, it was a terrible ordeal. Luckily I survived. And although it cost me a pretty penny, I got the van all fixed. Thanks.

• Philippines
22 Feb 11
hello, I knew the feeling coz i've been into same situation before. I forgot to pull up my handbrake and my car was parked on a slopes,and it slides down to the road (center)causing traffic. That was really embarrassing /annoying and i want to pull my hair for being so dumb (forgot the handbrake sheesshh)

• Canada
26 Feb 11
Everytime we get into situations like these, we always feel so embarassed. That we caused other commuters traffic, because of some silly thing that we did. Well, I don't think mine was a silly thing. Of course I should have taken better of my vehicle to prevent getting broken down would have been nice. Thanks.

• United States
21 Feb 11
That's not fun to be stuck on the highway in the winter...

I remember we had a lot of car troubles last year. One of the time, we drove the Chrysler to the zoo for more than 50 miles from home. When we head home, the car stalled on us, we ended up limping home for hours... The other time, we drove the volvo to the casino for more than 150 miles, we got a flat tire one time and the other time, the car all of a sudden slowed down to 30 miles itself on the highway then we were stuck on the highway in the cold and had to wait for AAA...

• Canada
25 Feb 11
Yes, it wasn't fun. Specially at the cold winter morning. And it wasn't specially fun when I had the van towed to the shop, and I was told how much it was going to cost me to have it fixed. I think another breakdown like that, with the same cost, would already amount to the cost of the van if I has sold it. Thankfully it wasn't as far from my place, as your examples. Thanks.

• United States
26 Feb 11
Hi Bounce, That just happened to me yesterday on my way to work. My axle broke and it was right in the middle of a big snowstorm so there was no breakdown lane to pull into. I did manage to get off the road enough as to not cause too much trouble but still, they did have to slow down to get around me. I was upset enough at being late to work thus losing time and knowing that this is going to cost me. I really didn't pay attention to what the passers were doing. Luckily, I had my cell. Not luckily that I did not have my little notebook of #'s on me as I'd used it that morning to set up a appt. with my mechanic knowing something was up with my car. I've been in this spot before and I would never get angry or add to a person's troubles. I would stop and see if there was anything I could do to help.

• Canada
26 Feb 11
Hi Sid. That is even more awful! Luckily for me, it was just a bit cold. I would definitely think that it would be more difficult if I had this breakdown while there was a snowstorm outside. Hope you got your car fixed up already. And hopefully you didn't have to shell out a big sum to get it fixed. I did.

Thanks.

• United States
27 Feb 11
Ya..not good times at all. I don't have it back yet and won't until Monday. It's going to cost around 200.00 which sucks and I work out of town and need rides at weird hours so it's been costing for rides and all. It'll be ok. I need a car so just gotta deal with it. it happens.

• United States
22 Feb 11
Driving makes people evil! I'm glad I don't drive anymore for these types of reasons but one time my car went out of control and I landed on the other side. It was a miracle I didn't hit anything and when I looked around everyone had wide eyes rather than red faces. Someone actually stopped to help me.

• Canada
26 Feb 11
I do consider driving as some form of 'evil' exercise. Unfortunately, in my case it is a necessary evil, as I have to drive to get to work. I hate getting stuck in traffic, taking care of the car, and of course dealing with it when I get broken down in the middle of the road. But I also show a little bit of sympathy to people who are having a bad day on the road. I would try and help them out too because you never know when you would also need help. Good thing someone did actually stop and help you with your ordeal. Thanks.

• United States
21 Feb 11
I do feel sorry for a person having a bad day with their car (considering I barely got home that last day when my transmission was dying.) I also feel sorry for the victims of car wrecks, but not the person who caused it(even when that person is ME.)

• Canada
26 Feb 11
I think when you yourself have gone through some similar ordeal, you start to feel sympathy to the people by the road. You know how difficult it is so you become a little bit tolerant. But for people who still get angy (because I caused them 15 seconds off of their morning commute), I hope they don't get to experience a similar situation. Thanks.

• Leon, Mexico
22 Feb 11
Oh Bounce58 I´m very ashamed that you had to hear does yelling, honkings and the agry stares of uncounsius drivers... as you were willing you to stop there and take the breeze... isn´t it? I don´t make unfriendly gestures, nor yelling nor angry stares. And I feel very sad and upset when I got them. And I feel aware when I watch others being roadside. We must try to let pass away the unpolite drivers. However! It´s not their own business!... Blessings!... Dainy

• Canada
26 Feb 11
Thanks Dainy. Yes, I do feel that people that get broken down on the road are already having a terrible day. And don't necessarily need the unfriendly gestures from people driving pass him/her. This is what I felt when I was standing there. And yes, it isn't their business.


• United States
21 Feb 11
I remember the first time I had car trouble. I had the arrival time to my job for transportation wrong so I had to drive myself to the job site. I was about half way to the job site when my car stopped running. I was able to get to the side of the road onto the shoulder (this was I-5 I think) and I stood by the car for a while. Most people went by and finally a truck driver stopped and took me to a service station. They got a tow truck to take me to a shop. It turned out that the timing belt had broken. I think I got really lucky that day. You hear all the horror stories about how people get attacked and you wonder if you are next. It seems like every time I broke down, someone did stop to help me.