It's just entertaing watching those US Presidential Debates:D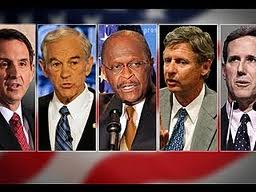 Philippines
June 16, 2011 7:59am CST

Hello Lotters, Time Really does Flies by and now Americans yet again are going to Vote for their President Next Year 2012 Elections. it's really weird why they only have four year term per President. I mean, we have six years and yet not much really happens and here, one of the most develop countries only have four years... It's still feels shocked to me because Just today I've seen the latest Republican Presidential Debate...and CNN

moderator feels like rushing the candidates to talking machine gun while they answer for only a 30 sec - a minute. as for the FOX version of the debate last May, though, i've heard they're mostly pro republican,but you know fox better than i do. a sure a lot of US lotters have a lot to say, but i'll just gonna continue watching them. Not a referral LINK. http://www.youtube.com/watch?v=KHGfYcwj4kI
5 responses

• United States
16 Jun 11
The 4 year two term limitation was to limit the power and inherent corruption that comes with that power. FDR could have remained president indefinitely due to the power he had amassed. He crippled the country with his policies, but had instilled too much fear in the people for them to vote him out.

• Philippines
16 Jun 11
Hello task, Yes, i noticed. pretty much sure that it does limit the power of the President. i almost forgot that some one was impeached but the president won that trial. well, there goes my answer. but to be honest, four years isn't enough to make a difference.



• United States
16 Jun 11
What you saw really wasn't a debate, in my opinion. It was more of a question and answer drill and some of the questions were ridiculous--in an effort to be more modern and acceptable to young people, the moderator asked such silly and unimportant questions such as "Coke or Pepsi" and "Elvis or Johnny Cash"--who the hell CARES?! We have 4 year terms to limit the damage one person can do. We've almost been financially destroyed by this current administration. We also have allowed 2 terms maximum so that a good president can continue his success. However, we haven't had one that deserved two terms--or even one--in a very, very long time!

• Philippines
16 Jun 11
Hello dragon, Yes,

i noticed the rushing thing made it more look like a question and answer thing. I think knowing for me now how can such network be so biased, the problem is that answers are limited. weird but i find it entertaining a bit.

if that's silly i really doubt it can help serious voters. but that's me, i wanted to watch it so that i can compare it how such debate can be answered in my country. the first time, same thing, the moderator was biased too.

• United States
16 Jun 11
LetranKnight25, I too try to watch the debates. I use them to get a better feel for the candidates. Watching their body language, eye contact, etc can help to either reinforce, or change my mind about a candidate. I do have to agree with you, though, they were certainly rushed in their answers and that did not do much for fair and reasonable debate, at least in my opinion. I did find it interesting to watch their responses and to see which would try to avoid the questions, avoid eye contact, etc though. While I understand that they were not given much time for their responses, and they did want to get their various positions out, some of the candidates tried to get off subject on some of the harder questions. I also agree completely with one of your earlier responses, what difference and importance is what soda, music, or even pizza crust the candidate prefers when you consider the seriousness of our country's current economic state, deficit, national debt, and unemployment rates? And we mustn't forget the state of the housing market........**SIGH**

• Philippines
17 Jun 11
Hello mehale

, Well, I have only watch this one specific republican debates because i got curious with romney there. though i find him a little bit rhetoric but i think it remains to be seen. i need to see the democrat debate later

as for the problems that they were talking there, its' beyond me.


• Philippines
16 Jun 11
they are planning to have a Presidential in 2012 while the world will gonna end in 2012 also? hehehehe anyway, who's the lucky guy will win for their next presidential election, it is still a good president that are capable to run the most powerful countries in the world.... no matter who's elected and win, they are all fitted to be the next president...

• Philippines
17 Jun 11
Hello mantis, Oh, men if that's true then it would have at least MATCH the 2012 movie president to the current president of the US obama, saying goodbye as athe last president of the country

. well, they're not lucky when they become president, that's for sure.


• Philippines
5 Aug 11
hi, you're right,even me really loved to watch those scenes,i love to hear those messages and debates of each political people,last year when the president position was open and those who want to occupy it was debating on what they can do and what they give to the people of our country,because they were fighting and argued for that position.