Would You Want to Walk This Road Just Before It Gets Dark?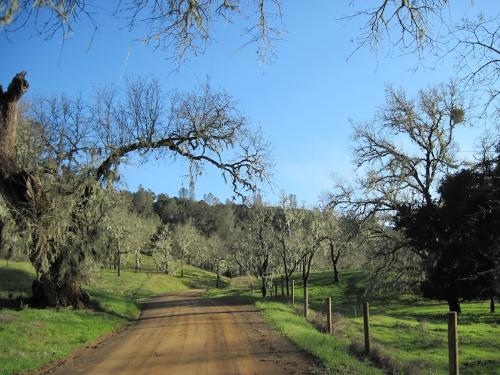 Paso Robles, California
7 responses

• India
25 Sep 11
Looking at your picture it reminded me of the poem written by William Shakespeare - Lucy Gray. http://quotations.about.com/cs/poemlyrics/a/Lucy_Gray.htm [i]Oft I had heard of Lucy Gray: And, when I crossed the wild, I chanced to see at break of day The solitary child. No mate, no comrade Lucy knew; She dwelt on a wide moor, --The sweetest thing that ever grew Beside a human door! You yet may spy the fawn at play, The hare upon the green; But the sweet face of Lucy Gray Will never more be seen. "To-night will be a stormy night-- You to the town must go; And take a lantern, Child, to light Your mother through the snow." "That, Father! will I gladly do: 'Tis scarcely afternoon-- The minster-clock has just struck two, And yonder is the moon!" At this the Father raised his hook, And snapped a fa*g*got-band; He plied his work;--and Lucy took The lantern in her hand. Not blither is the mountain roe: With many a wanton stroke Her feet disperse the powdery snow, That rises up like smoke. The storm came on before its time: She wandered up and down; And many a hill did Lucy climb: But never reached the town. The wretched parents all that night Went shouting far and wide; But there was neither sound nor sight To serve them for a guide. At day-break on a hill they stood That overlooked the moor; And thence they saw the bridge of wood, A furlong from their door. They wept--and, turning homeward, cried, "In heaven we all shall meet;" --When in the snow the mother spied The print of Lucy's feet. Then downwards from the steep hill's edge They tracked the footmarks small; And through the broken hawthorn hedge, And by the long stone-wall; And then an open field they crossed: The marks were still the same; They tracked them on, nor ever lost; And to the bridge they came. They followed from the snowy bank Those footmarks, one by one, Into the middle of the plank; And further there were none! --Yet some maintain that to this day She is a living child; That you may see sweet Lucy Gray Upon the lonesome wild. O'er rough and smooth she trips along, And never looks behind; And sings a solitary song That whistles in the wind. [/i]

• Paso Robles, California
25 Sep 11
What a lovely contribution to this discussion. Thank you for sharing it. Lucy would not have met this particular fate on this road, since I don't believe this road has ever felt snow. But it does have a bridge over a creek in the middle of it, farther down the road than you can see now.

• India
26 Sep 11
The moment I looked at that forlorn road my memories went back to the days when we were studying poems by William Shakespeare. I just had to let you read it too. It fitted so well bagarad. Even if there would be no snow it did look like a place where walking alone would be quite not safe.

• India
26 Sep 11
Please read as 'walking alone would be safe' (typo)


• United States
10 Nov 11
I probably wouldn't.. my dream place to walk would be an extremely long driveway or roadway on my own land.. or good paths through a small forest also on my own land.. I'm just too paranoid I guess and figure it only requires crossing paths with a crazy once.. It's very sad actually, when i was being raised we could ride our bikes or walk all over.. but nowadays I refuse to let my grand kids play in the front yard, and I live in the country outside of a very small town..

• United States
29 Aug 11
I probably wouldn't need a flash light - headlights from traffic/cars and street lights generally do it for me. I live in a pretty big metropolitan city and so... it can be quite scary in certain neighborhoods to walk alone at night (or even with friends) especially with the way the crime rate is...But for the most part I'm comfortable and secure with it - so long as I'm not in the 'hood somewhere

. I did buy a taser as well as mace just for emergencies.

• Paso Robles, California
25 Sep 11
Walking in a city at night is something I probably wouldn't do anymore. I won't even walk in the country alone after dark. The wrold is full of crazy people, even in my neck of the woods.

• United States
29 Aug 11
I would rather ride a motocycle down it! With my guy I would stroll for a city block or two but my last hike in girl scouts was my Last hike!

• Paso Robles, California
29 Aug 11
I hope you won't do it when I'm walking it, LOL. It would kick up a lot of dust. I was on another hike one day when a motorcycle did drive down a dirt road where I was walking. It's a choking experience if you are the one walking.

• United States
29 Aug 11
Bummer! I would stop and walk the bike passed you ! No Worries!

• India
26 Sep 11
sara...I don't believe you.

.Would you be able to think about others when you are with your beloved?



• United States
28 Aug 11
Yes, and probably with a flashlight and probably with a friend, just in case..It's a beautiful picture, a good visual for a story..;) In fact, do you mind if I use it?

• Paso Robles, California
28 Aug 11
I don't mind if you use it to illustrate an article or story, as long as you give credit to me, but it's not for use on any print-on-demand sites such as Zazzle, for commercial use. I don't want others who see it to think it's in the public domain, since it isn't. I would like to know where you are using it so I can see it. I'm assuming it's for "G" rated uses.

• United States
28 Aug 11
Well, I was thinking along the lines of using it as a prop to inspire certain scenes in my story. And of course I'd give you credit, just remind when when the time comes and yes, though a child would probably be bored with it, I'd say since the genre is love/inspired/suspense it may pass for a G rating..:)

•
28 Aug 11
I don't know the reputation of the area, so it's difficult to say. However, unless it had a bad reputation I guess I'd walk along it. If you need to get somewhere, you need to get somewhere! I often walk along an unlit, deserted road near home. At night I take a torch to keep my feet out of potholes, but I've done it without as well.

• Paso Robles, California
28 Aug 11
This is a country road that leads though and past ranches and a few small farms. It does not have many reported crimes in the area in the 15 years I've lived here, but an occasional mountain lion might show up, since they have been known to roam this area. This is the sort of road most people drive on to get home or to visit a ranch. If you walk the mile or so to the bridge, you might be passed by three or four cars or pick-up trucks as you walk. I've never run into another walker on days I've walked it. It's off the beaten path. It is not a road that goes anywhere. It's divided into two parts, each of which connects to a diffence highway.

•
28 Aug 11
Hi bagarad, At this time and age, i don't think it is advisable for females to walk an empty country road alone, especially when its nearly getting dark. Something unexpected might happen which is not good. It is better to have a chaperon or else don't venture out alone.

• Paso Robles, California
28 Aug 11
This is the first time I ever walked it alone, although it was mid afternoon when I took this walk. I used to walk this often with a friend, but she moved. On the day I took this picture, my husband was sitting in a car near the beginning of the road. Since my friend moved, he often comes and parks where I'm walking so that if I don't get back to him in a reasonable time, he comes after me. He can't go for long walks anymore because of his hips. It was nice when we could walk together.