momma used to say beauty is on the inside

Holiday, Florida
April 22, 2012 7:40pm CST
I got another youtube loaded of Coconut today. It has daughters bf in it. but thats how daughter took it. anyway, I was polite enough to ask her if I could put it up since her C is on it. and she thinks hes something else. like all the girls are after him.


my mom used to say beauty is on the inside or you are not pretty no matter what. what do you think? is it just me cause i know him

also you can see coco again. lol! http://www.youtube.com/watch?v=I0X2VQWHwfU&feature=youtu.be not a referral
8 responses

• United States
23 Apr 12
Oh, she is so cute!!

Such a polite little girl, too. I don't think the guy is anything special but he does have a certain bad boy vibe about him. And when seen through the eyes of love (or infatuation), anyone can be the most beautiful person in the world.

• Holiday, Florida
23 Apr 12

yes the bad (and lazy)boy thing. my daughter buys him eat out food because sometimes thats all he will eat. thanks for saying coco is polite. i dont think she is really . i think shes quite the pushy little thing.

no wonder shes so fat.


• Lippstadt, Germany
28 Apr 12
hi dear bunnybon thats a cute video you took there. And I didnt know your daughter is already engaged to that guy. Sure heartbreaking for you as she still doesnt see his shortcomings and as he lives at your place youre sure no happy camper about that...... wish I could help you.

• Holiday, Florida
29 Apr 12

want me to put him on the bus to you? that would help

no i know you dont need that. im joking you know. i would not wish him on a good friend. i put a new one (video) there every now and then. thanks for the compiment to coco

at least shes cute inside and out.

• Holiday, Florida
3 May 12

ooohh how sweet. you dont know how i wish i could.


• Lippstadt, Germany
3 May 12
that would be sooo lovely to give you a break from all the stress.


• Boise, Idaho
23 Apr 12
The Youtube was cute. Or the dog was. Your daughter's boyfriend is handsome. I think he could use a brow make over but that is just my opinion. To each his own. And, yes, beauty is only skin deep. How he treats her and conducts himself is so much more important. I don't think young people get that.

• Holiday, Florida
23 Apr 12

yes they always go for outside looks. frankly i dont think hes good looking either.

outside. but again it could be a mental block with me


• Australia
9 Aug 12
Hi Bon. Loved Coco in the video but it was also a great demonstration of a guy who thinks of himself as special and is not above teasing a dog for no good reason. I hate that, I think it's mean. I saw nothing attractive in the guy and to me he and others like him are another reason why I prefer dogs to people.


• Holiday, Florida
10 Aug 12

most of the time he acts like he really loves her. but sometimes i wonder if thats another pretense for daughter to believe.

yes ive got a bunch of her on there now. of videos

• United States
3 May 12
I agree with your mom but I think Coco has beauty both in and out.

I have also heard that beauty is in the eye of the beholder and I wouldn't want to offend a beholder.

We have heard about him enough to know what he's up to too so it might not be fair if I gave my opinion on the beauty topic. I think Coco is little bombshell though.


• Holiday, Florida
3 May 12

im afraid im just biased from living with him. anyway, thanks from coco for the compliment.


• United States
25 Apr 12
Well, the only thing that I can tell is that he isn't a bad looking guy, but I can also say that he isn't a heartthrob either. Of course, I am one of those people that has realized that beauty is not something that you can see on the outside because the majority of people that are the most attractive on the outside are the people that are the ugliest on the inside. The inner beauty is much more important than superficial beauty.

• Holiday, Florida
25 Apr 12

i think you are right in most cases about the beauty outside. although i have seen some pretty inside and out. but daughter thinks its important and that he is good looking


• Philippines
23 Apr 12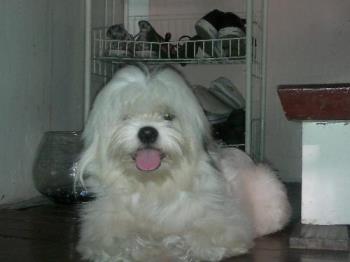 She is so cute she is liked my whoopie but a little hairy than she is. But she can be paired to my odie hehehe

.

• United States
23 Apr 12
He did not look all that special to me. I guess it is all in the eye of the beholder.

• Holiday, Florida
23 Apr 12

me either and i guess it could be because i know him and dont like him that does it.