Yahoo News Mishap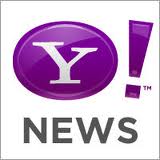 Philippines
June 18, 2012 11:24am CST
I hope I get to work with Yahoo News and become a proof reader so that I can help them to furnish their articles before being posted to the Yahoo page.

Kidding aside, I always read the Yahoo News everyday be it local or international and its seems that their articles are not edited and sometimes almost all of the articles posted have wrong grammar or the picture has a different description. If you can see on the comments the people sometimes go straight to it since the articles are either recycled or the information is scant and the people are very upset about it.

How about you guys? Have you read an article in Yahoo News that made you upset due to lack of information?
4 responses

• United States
18 Jun 12
Yes, and I've found a number of errors in articles countless times. I can't read the comments anymore because there are just so many trolls tromping up and down throwing their fiery breath everywhere. I don't understand, I'm sure Yahoo has the resources to hire editors, even if they have to rush a story out... why are there so many errors in their articles? Are all their copy-editors asleep or do they think people won't notice or care? (They obviously do!)

• Oklahoma City, Oklahoma
19 Jun 12
Right. They're in it for the page-visits (which is what their pay is based-on, rather than "correctness" or "validity.")

• United States
19 Jun 12
Oh, great. Guess it's time to abandon yahoo in favor of the good old-fashioned newspaper.

• United States
21 Jun 12
I can't actually say that I read Yahoo news, so I really don't know anything about the quality of it. However, I have been reading our local news stories from one of the local television stations and I find that there are a lot of grammatical errors on there. Some of these mistakes are so terrible that even my daughter, who just finished third grade would not make these mistakes. They really are something that drives me nuts.

• Singapore
19 Jun 12
There are times i hate reading yahoo news especially our local ones. They are boring and often doesn't have any discussion quality to it. Worst news are those really short ones, more like gossips or entertainment that's useless to our daily updates. Right now, my yahoo homepage is of US, not of singapore. As i can see the huge difference in kind of news update.

• United States
19 Jun 12
Yes this drives me nuts as well. That's because the news people are not professional journalists. Did you ever read the contributor profiles? They are just everyday people with no experience in journalism. One I read is or was a janitor. People are under the impression that yahoo has a news department with paid anchormen like Dan Rather. Um no. Anyone can be a contributor. What you should do is become a yahoo contributor as anyone can, and then produce great articles without mistakes. Then let us know here, we would all come read your articles. You get paid on how many views you get I think on those stories.