Signs & Portents 2: A Rainbow in a Clear Sky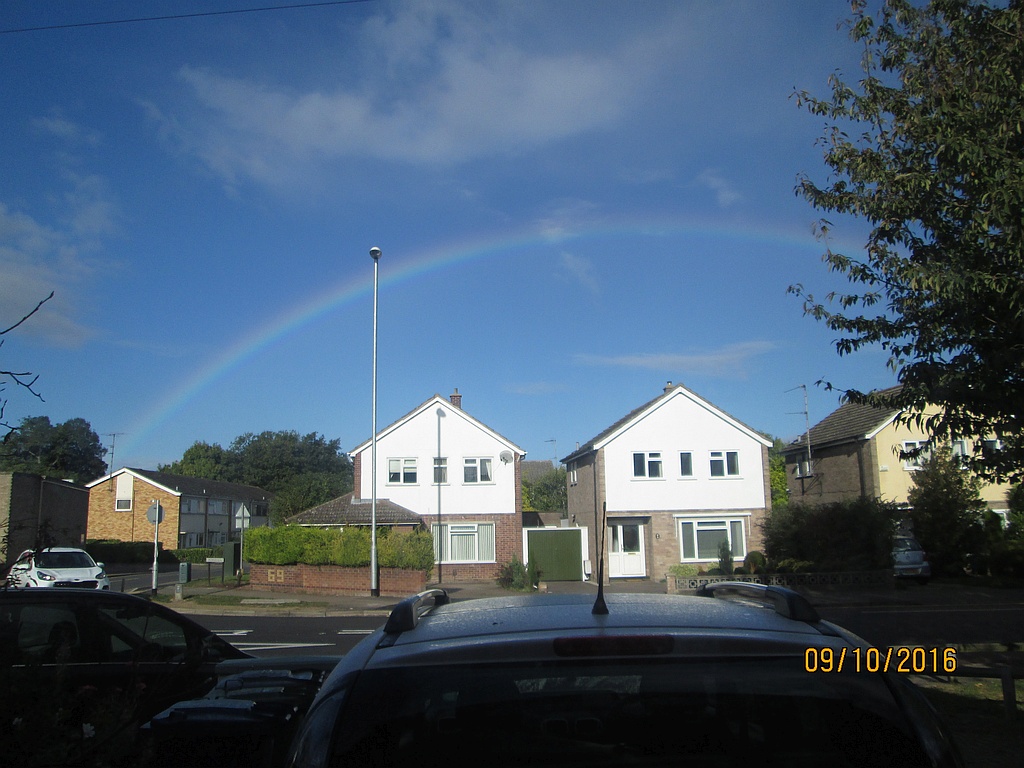 Cambridge, England
October 9, 2016 12:15pm CST
MY heart leaps up when I behold A rainbow in the sky: So was it when my life began, So is it now I am a man, So be it when I shall grow old Or let me die! The child is father of the man: And I could wish my days to be Bound each to each by natural piety. (William Wordsworth) I looked out of my window this morning on a scene of bright sun and an almost cloudless sky. In fact, there was every indication that the day was bright and dry. To my amazement, there was a full and strong arch of a rainbow over the houses opposite. There was only a little light cloud and certainly no sign of anything enough to bear rain. I marvelled for some time at this mystery and remembered Wordsworth's words. A rainbow was a sign to Noah that the deluge was over and, indeed, it seems that Hurricane Matthew has expended its force (not that we have such storms here). For Wordsworth, the rainbow was a reminder that his childlike joy in Nature was still alive in his heart and this, for him, was a sure sign that humanity was 'naturally pious' (a view with which William Blake strongly disagreed). It also seems that he was making a clever pun on the 'pi-ness' of a circle and that was something new and delightful to me, too.
6 responses


• Cambridge, England
9 Oct 16
It wasn't particulary misty earlier on but my theory is that what moisture there was had risen with the warming air and had then condensed into droplets large enough to form a rainbow. It was a good, solid bow over a very wide area and lasted for a long while. There were certainly no rain clouds about, even overhead.


• Cambridge, England
9 Oct 16
Yes, indeed, the rainbow you see is not the same one I see, even if we are standing side by side in fact, even your two eyes aren't looking at the same rainbow! Another amazing fact about a rainbow is that the shadow of your head (specifically, the place on the shadow of your head where your eyes would be) is always the exact centre of the circle. Also showing up fairly well in my photo (because of the blue sky behind) is the phenomenon that the colour of the sky inside the bow is always a shade or two lighter than the sky outside. I'm not sure why this should be but it's probably something to do with the sunlight being scattered (rather than refracted) by the raindrops and similar to the halo one sees around the shadow of one's head on a dewy lawn.

• Centralia, Missouri
15 Oct 16
seeing that with the clear sky is certainly odd! Very pretty, glad you had a camera handy

• Boise, Idaho
9 Oct 16
Rainbows are very inspiring and beautiful. A very lovely sign of a new start. Enjoyed the poem.

• Garden Grove, California
9 Oct 16
that is anoter of Wordsworths beautiful poems I always have a feeling of utmost peace whjen I see a rainbow God's promise to us