How did you get your first dog?

United States
February 24, 2007 1:18pm CST
Or any of your pets? My first dog was originally my brothers dog. He stopped wanting to take care of him and thought h was a nuisance, and I ended up watching him on the weekends. Eventually I just kept him, and it worked out for the best. He's now 15 years old and has had a great life at my house. How didyou get your first dog?
11 responses

• United States
24 Feb 07
The very first dog my family had we found tied to a pole in the city. My dad saw her there for 2 days in a row, with no one coming to feed her or to take her home, so he took her home. The first dog that I got on my own I found on petfinder.com from a shelter. I drove four hours to get her, and she is an awesome dog!!!

• United States
25 Feb 07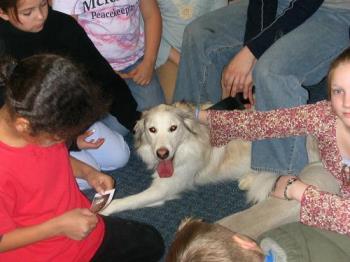 I am so glad your dad stopped to pick up that dog! I used to work in a dog shelter, and you wouldn't believe how people neglect and abuse animals. That dog is lucky your dad came along. And I LOVE PETFINDER!! I can't look at the site, we already have 4 dogs, and I would always want to bring home more. Maybe when we get our farm, I'll have room for more!

•
25 Feb 07
I DONT HAVE A DOGGIE...!!!!! *sob* *sniff* *sob* !!!! i soooo want one...but my mum does agree....she says it would be too much of a work....cleaning it ...training it...feeding it and all!! but they are just sooo chuuweet!!!! oh i soo jealous of all those who have one!!! :(

• Canada
24 Feb 07
My boyfriend and I got our dog through an add in the paper that stated "giving away free pups". My boyfriend and I were told that Ike (our current dog) was a boxer lab mix, we fell in love with him instantly and took him home. We later found out that Ike was infact a pitbull/lab mix and I assume that we were lied to because of the strict rules regarding pitbulls around here. In any event, I have to say that he's the sweetest little guy in the world and I urge people not to have such negative stereotypes for pitbulls or pitbull mixes. Sure they have the potential to be aggressive, but it's all in how you raise the dog and we haven't had a problem so far.

• United States
24 Feb 07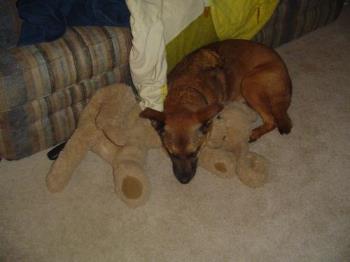 I completly agree with you about dogs! When a dog is aggressive, it's usually either a LACK of training from the owner, or it's an owner that either abused, neglected or TRAINED the dog to be aggressive. I never blame the dog, it's usually the owner. I have a dog that is part Akita, and some kennels won't board him unless they screen him first. They've always taken him once they meet him.

• India
9 Mar 07
I got my first and last dog, when one day my father went to fetch milk from dairy one pup followed him to home, I was so happy to see it, gave him my share of milk and bread, but he ran away the very next day and i cried a lot, so my parents decided not to get another one for me as departure makes me sad.

•
8 Mar 07
I got my first human 4 years ago, took me away from my mum when I was just a pup, and I've had a lovely wonderful life since then. Get three good meals every day, plus some snacks as well, and get several walks a day. What more could an adorable dog like me want. In the evenings I can lie in front of the fire dreaming of my favourite bones or sit on the couch with my humans watching television, my favourite programme is 'Dogs with jobs', as long as I don't have to get a job myself.

• Atlanta, Georgia
28 Feb 07
I got my 1st dog when I was 6. It was a kingergarten graduation gift frommy parents. She was a beautiful baby German Shepard, her name was Amber. I had her for 10 years. She got arthritis which is common in K-9 dogs and we had to put her to sleep when I was going into my Junior year in high school. R.I.P. Amber! I got a rabbit named Esher when I was 13 too. He became hard to keep up with. IE: Cleaning and feeding and playing with. I was in a lot of activities then, including school, so I ended up giving him to the pet shop. Someone else got him, and took good care of him. Now recently I got a schnoodle for X-Mas from my g/f. Her name is Dior. The best lil' thing ever. She is now 4 months old (tomorrow) and she is the love of my life. LOL

• United States
27 Feb 07
My first dog was a very young puppy, a Yorkie, from a breeder. He was the first dog our parents let us get. I was 4 years old. I loved having him! He was a character, and an escape artist as well. I remember that he was so small when we got him, that he fit in the palm of my hand - which was small itself! The first night we had him, we put him in a box to sleep in. The next morning, the box was found with a huge hole in it, and no puppy to be found! He was a good dog, I miss him. Someone stole him out of our backyard when he was around 11 or so. I was heartbroken.

• Oman
26 Feb 07
I think I was around 5 years old. My dad bought 2 pups, one for me and one for my brother. They were the cutest things ever. Before that we had only had a cat and she was always out and about so I was fascinated by these pups and how they seemed to love us so much so soon. Unfortunately we soon had to move out of our house into an appartment and pets werent allowed there so we had to give them all away :(

• United States
25 Feb 07
We purchase our french bulldog from Europe thru an internet service. I do not think I would opt for this route again but am so very happy that I found her. Her name is Luci, She spent two days on a plane from budapest to get here. Poor puppy was so glad someone got her out of that cage. It has been an experience for all of us but she is the best dog I could ever dream of having. She is now almost 2 years old (will be 2 in March). She is the just so much fun to be around...a very comical and loving girl! The service we got her from promised that she was not from a puppy mill service. It is a very well known european service but I still was not comfortable with the trip and how she had to sit in her own urine/feces in her pet carrier. I would love to have another french bulldog only a male as we are very interested in having one of Luci's puppies and have a couple of friends who would love to have a french bulldog. So I am looking this time right here in our area. Thanks for asking:)

• United States
24 Feb 07
We had a dog as I was a teen. We moved to the country and was able to get a Collie, not sure from where. Someone poisoned him and we got another dog after a bit. He was there when I left at 18. We got the 3 we have now when we moved to this property. Good watch dogs and animals for the kids to take care of. Kids with animals to care for turn out better humans when adult. The black labrador is my first actual dog. Big and black. Wonderful but able to wiggle out of any containment and there is a leash law here. Still makes my day good when he is glad to see me.

• Defiance, Ohio
24 Feb 07
My first dog I ever got was when I was a kid. Not sure how we got Hobo. But I really miss that dog. As for the dogs I currently own. I have two. I got Daisy at a auction/fleamarket place for 60 bucks in Michigan. Found out later after I got her fixed. She was worth over 15,000 bucks. But now she can not be used to constantly breed show dogs. She is a happy spoiled dog. Now Max, I bought him from a breeder in Ohio. For my middle sons birthday. We got him when he was 8 weeks old.