The big crypto plunge over the last year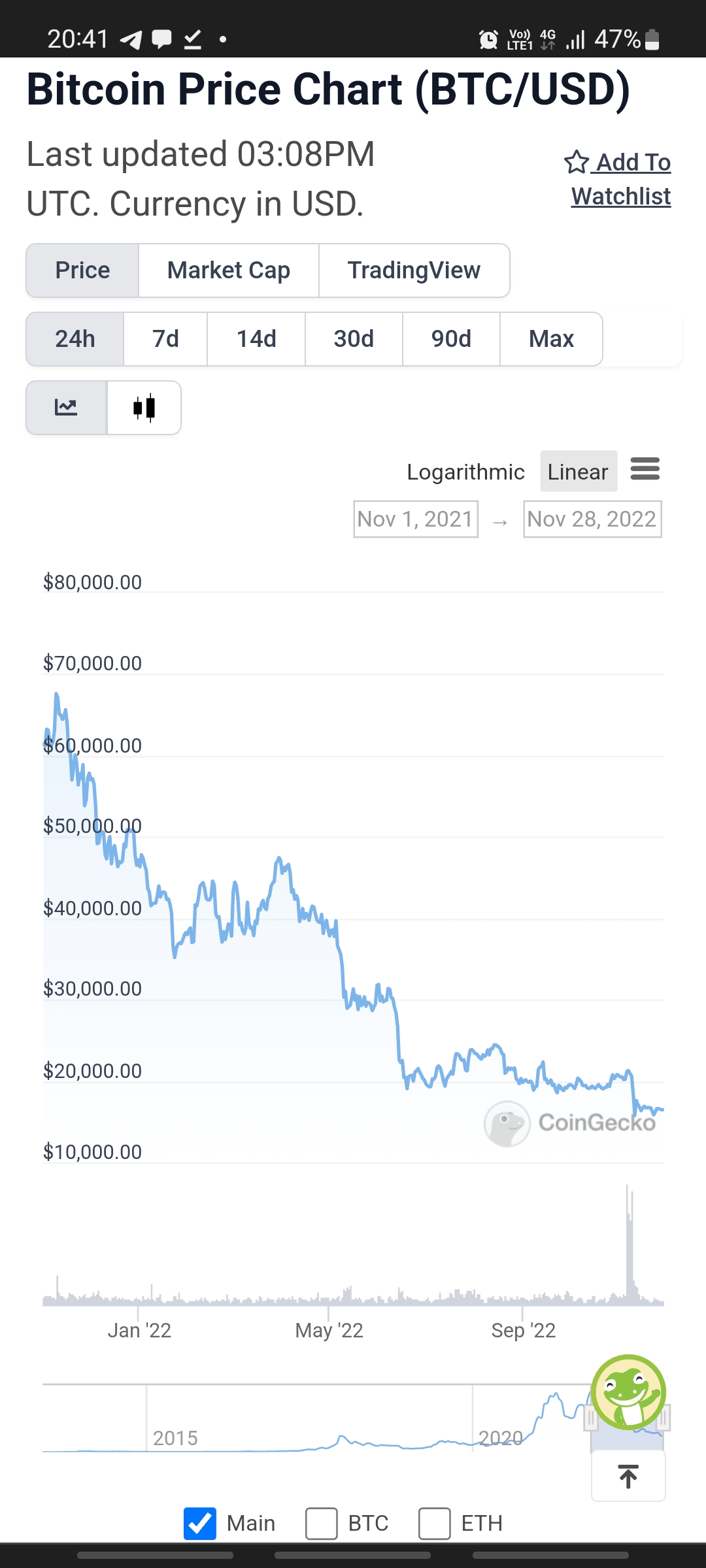 India
November 28, 2022 10:43am CST
The graph shows the steady and steep fall in bitcoin value over the last year - from November 2021 to November 2022. It peaked at about 70000$ and now is barely over 10000$! Imagine if your bank account lost 75% of its value in a year. That would be disastrous! People are still enthusiastic and optimistic about crypto though. Do you think the worst is over or is the worst yet to come?!
9 responses


• United States
29 Nov
I don't have much faith in the crypto market.

• Daytona Beach, Florida
28 Nov
I think it depends on your perspective. It's only bad if you want to believe it is, and you've invested in it like a lot.

• Daytona Beach, Florida
29 Nov
@pitstop
Then I don't think you have anything to really lose, now do you?


• Rockingham, Australia
28 Nov
There was a very negative report on it last night on our news. People were unable to access their accounts for some reason.

• Rockingham, Australia
29 Nov
@pitstop
I really don't know. I'll try to find a link. Here's what we saw on the news last night.
https://www.abc.net.au/news/2022-11-29/ftx-cryptocurrency-digital-surge-smsf-super-retirement/101708328



• India
29 Nov
I have earned in BCH but these days I do not. Nothing much to write home about.

• United States
31 Jan
Well, of course hindsight is always 20/20, and we now see it inching back toward $24k. I am still mostly on the fence about the future of crypto, but I have a tiny investment and so I do watch it. It will either make me incredibly rich or not...but I do not have enough invested it will make me poor. So, it is at least interesting.