Butterfly Conservatory in Niagara Falls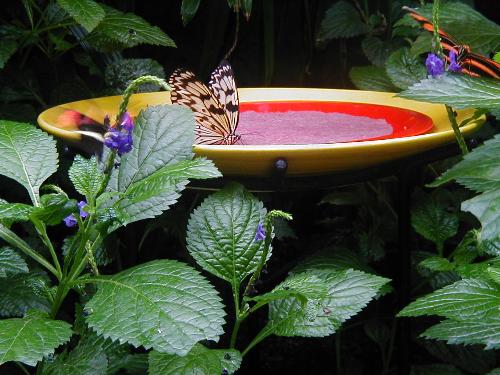 United States
September 17, 2007 7:56pm CST
Last September (2006) we traveled to Niagara Falls with friends of ours who wer visiting us from the Netherlands. The first day was great. The weather was cooperative and we were able to view the falls from many places. One of our favorite spots to visit was the Butterfly Conservatory. I don't know about my husband and our friends, but I could have spent the entire day there. It was peaceful and calming. The butterflies were beautiful. I wish I could share more than one pic with this discussion. We took many.
9 responses

• United States
18 Sep 07
I have been to Niagara Falls, but not to the butterfly conservatory. I have been to various zoos that host butterfly gardens. Yesterday I was visited by several monarchs in my backyard. You can post pictures when you comment on responses. I have at least one friend who does that. Since I am responding through the e mail, I will not get to see the picture until I post the response. I am sure it will be great, though.

• United States
18 Sep 07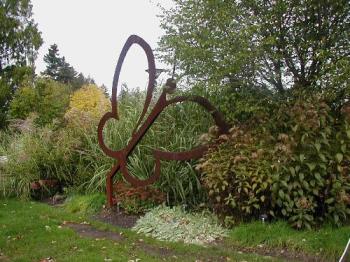 I tried posting another picture last night, but hit a glitch. Hopefully this time it will work.

• United States
18 Sep 07
I wish I had known about the Butterfly Conservatory when we visited there! I would have enjoyed it. Maybe I can use it as an excuse for a return visit!! The picture is great. Thanks for sharing.

• United States
18 Sep 07
This was our second visit to Niagara Falls. The first visit we only visited the falls and took a tour bus. Loved the Maid of the Mist.

• United States
18 Sep 07
OH YES!! so beautiful! my mother took the girls there while hubby & i were on our honeymoon September (now 2 years ago!) They loved it! I had been there before with friends so i knew what they had seen... and the maid of the mist!! so much fun!! just dont go on it on a chilly day u never get rid of that chill!!! lol

• United States
18 Sep 07
I've been to Niagra Falls and I love the falls. I've been to the Butterfly house at Paul Smith's college. That was cool, tiny, but great. The first time I ever saw a blue butterfly was there. Now they've been repopulated them and I see them in my area in the wild now. An entire Butterfly Conservatory must be absolutely awesome! Have you ever been part of any butterfly projects? Lovely topic.

• Australia
18 Sep 07
I have visited Niagara Falls, which were quite amazing. I don't recall see the butterfly conservatory. Your photo is very beautiful.

• United States
23 Sep 07
We took a mini vacation to Niagara Falls at the beginning of summer this year- My mom, daughter, and me. My daughter loves butterflies- so that was one of our stops also. It was wonderful, beautiful and amazing all in one. It was really warm inside the conservatory though- One butterfly landed on my daughters hair—and one landed on my shirt- I can't believe all the different butterflies there are. I thought the flowers in there were gorgeous too! Did you guys walk around the gardens outside?? Gorgeous! We also rode the Maid on the Mist, walked the Journey through the Falls, rode on the great big Ferris wheel – that was very scary!

• United States
23 Sep 07
On the day we visted the Conservatory, the weather was a bit on the gloomy side. It was a bit windy and cold so we welcomed the warmth of the inside of the building. I thought about riding the Ferris Wheel, but thought better of it. I am not one that enjoys heights.

• Australia
18 Sep 07
I've never heard of the Butterfly Conservatory. How beautiful. There is a big park in Brisbane where they held Expo years ago. One of the features was an enclosed rainforest habitat. It closed down due to lack of funding and I guess the animals were removed but none of the insects were apparently. You could still see butterflies in the ceiling cage. The whole place was closed but the domed roof could still be seen. I used to wish I could go I there because it must be lovely since it's been allowed to grow wild.

• United States
18 Sep 07
I've never been to the B.Conserv myself (oddly enough seeing how I'm from there) but my kids have gone and they absolutely LOVED IT there....i'd like to visit at some point but usually when I'm home visiting I'm too busy on Clifton Hill and harrassing the staff at Kelseys on the Hill LOL and visiting friends etc...

• United States
18 Sep 07
I would guess that it was quite a treat, Elusive. I love butterflies so much. I have never had the pleasure of visiting that part of the country, but I would love to one day see it!(:

• Canada
18 Sep 07
I have visited this same conservatory in Niagara Falls, a number of years ago. It was an unforgettable experience. I've never seen so many species of beautiful butterflies, in one place. My daughter and her friend, were able to stand still, and have some of the butterflies land on them. Amazing.