where does our enthusiasm for life go to?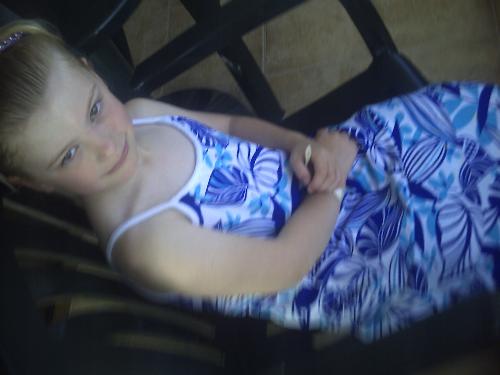 July 12, 2008 4:39am CST
I watched my children getting ready to go to their dancing class this morning. Each child so excited they couldnt sleep over night, up and into the shower by seven o clock, breakfast and dressed by 8. The excited chatter continued round the breakfast table and grandma and grandpa were to take them to the contest, father and I will go to watch later. As they dressed, hair immacutelately in place, i offered to take pictures, the squeels of delite were loud. Now, how i wish to be in that position again, where has our enthusiasm for life gone?
10 responses

• United States
12 Jul 08
I think for many ppl the stresses that come with being an adult is one reason so many lose that childlike awe of life and living...combine that with the brainwashing we hear as teens such as "grow up", "be more mature you arent a child any more" and so on and yes so many do lose it...Hell I did for a LONG time starting when I was still a young teen..HOWEVER, after my son passed I realized that life is too short to be stuck in that mentality and so much has already passed me by due to having to grow up ya know particularly at such a young age....Yes I'm still responsible and mature etc when needed BUT I have finally met that inner child in me and I can see and appreciate life through her eyes if that makes sense....Life can be very exciting to me these days and even the simpliest of things make me giggle like a little girl and act just like you described.....

•
12 Jul 08
hhehehe i am so pleased that you found the inner child lol i think i ate mine blessed be

• United States
12 Jul 08

you think you ate yours LOL omg that made me giggle! LOL....

•
12 Jul 08
I dont think I lost my enthusiasm more that it redirected itself to other more important things like being there for them helping them grow up properly etc I couldnt be more enthuisiastic about that, but getting up early going out ALL day nope the enthusiasm has pretty much left me but thats ok.

•
12 Jul 08
I do still get like that!! When I'm going on a day out I'm up early and waking everybody else up so excited I am to be going out to a theme park or the zoo or the beach - i just love my days out!! x

• United Kingdom
12 Jul 08
I still get it sometimes but not very often, I guess when a Child there are not the Problems that come with an Adult, they are limited as they do not get to go often to these sort of things, as an Adult it will be different as they are able to go to Places so there is no restriction really so after a while it is just every Day thing really

• Canada
15 Jul 08
Ah eskarena, I sometimes still have a few glimpses of it, but not as often anymore :) WHere it went I have no clue but I would like to get it back please:) I think there might be two major reasons. One things are not that new anymore. THe newness ( is this a word? LOL ) of each thing makes it more prone to enthusiasm. Secondly as life goes kicking us along specially when we're not looking we kind a loose that enthusiasm that we used to have loads of. Regardless the longer we can hold on to it, the better because it's a wonderful thing :)

•
19 Jul 08
I think its a wonderful thing that we still get that feeling. There is a spark of the child still in us all. If only life didnt bend us out of shape, wouldnt it be a wondeful experience

• United States
13 Jul 08
I don't know where my enthusiasm has gone in life. I fo through so many trials and struggles and from doing so, my enthusiasm for enjoyments in life has gone. I have searched for peace over the years, but just cannot get it. I just never have the time or money to enjoy life.

•
19 Jul 08
I think for our own mental health we must put time aside in each day for ourself and make sure we get it. I firmly believe we need to do this.

• Kuwait
12 Jul 08
nope! my dear friend, you can give them another shot when they are preforming in the stage, but the thing is not the same reaction when they are at home. Be Happy

• United States
21 Jul 08
Mine is still around I am proud to say! I have a wonderful life! I have a wonderful son that I get to watch and witness all of his achievements, all of his joys and believe it or not, just to see him literally breathe is such a joy! I am in a wonderful relationship where I feel we are equally yoked. Everytime we are together its like the first time. Its like a new experience everytime. I own my company which was a life long dream. My company is successful and I get to make a difference in peoples lives everyday! I volunteer in my community and I always wanted to be able to give back. I wake up everyday, excited about the day and what the world has to offer. I wake up excited about whose life I will impact today. I wake wondering whose dreams I can make a reality today. I go to bed every night knowing that I gave all of me. That I made a difference. That today, regardless of the highs and low's was a beautiful day in its own right. I can't wait for tomorrow, because its a day that I've never seen and one more chance to do it all over again! I love life! Its easy, surround yourself with people that you love and things that you love. Find a job or work that you would do for free...and you too will be enthusiastic about life!

•
13 Jul 08
Looking at myself, I feel that the answer to this is repetition, for example going out to new places... We go out as kids to places we have never been and doing things we have never done before. We enjoy the experience and get enthusiastic about the next trip out, because the previous one was so thrilling. Maybe the next one isn't quite the same, so we lose a small percentage of enthusiasm. It goes on from outing to outing and our enthusiasm is like a bit of a roller-coaster with highs and lows. Eventually, the roller-coaster ride evens out and things become "so what" and everything in our life starts to devolve to "so what". If things didn't devolve in such a way, we would have not ambition to better ourselves. Or maybe this ambition is a con because without ambitious people, the economy of countries would grind to a halt? So those who run society, create an "I-want-better" consciousness in us all? But there again, who does run society? No one and everyone, to give a Zen answer :-)