Do you have a recent pic?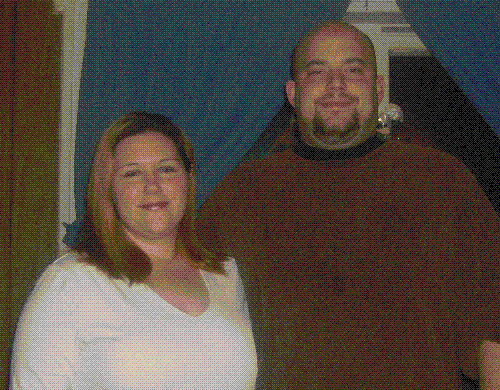 United States
December 7, 2008 8:54pm CST
How often do you and your spouse, SO have pics taken together?Me and my hubby haven't had a photo of the two of us taken in years! But we finally got one done today. My oldest son took the picture, it didn't turn out half bad. I had to crop it a bit, but otherwise I really like it. When was the last time you and your partner had a pic taken together?
9 responses

• United States
8 Dec 08
My husband keeps the tripod set up to make pictures in the LR or DR. We made a few of us not too long ago. I would like to make a new one for Christmas. He's always taking one of me, but I hardly ever get to take one of him, unless he makes one of us together. You know - he takes the pictures and he's never in any unless one of my kids happens to have their camera.

• United States
8 Dec 08
That's how I am. I have so many pics of my husband, of the kids, of him with the kids. In order to get a picture of me I have to actually ask someone to take it. My oldest son took the pic of me that I'm using as my avatar now. My last avatar was a pic taken by one of the twins. The last time hubby actually took a pic of me was probably when I had my youngest son. I know the nurse took one of me and him with the baby, she sort of insisted on it, but I didn't argue. Then hubby took one of me and all the kids because I asked him to.

• United States
8 Dec 08
Well, since talking to you, I am going to change it this year. I'm going to get my son to make some of us together. I might also get my husband to take some family pictures of all of us together. My son and his wife had a family picture made of them after their baby was born. I figure we'll get one of those for Christmas. But I'd like to have the entire family together this time, something we've never done. One of these days the teenagers will be married and gone from home. And I'd like to have a picture before they do that.

• United States
12 Dec 08
Good luck with that, I can only imagine how hard it is to get all the families together for a picture.


• United States
12 Dec 08
Other than snap shots we have not had a profesional photo taken of just the 2 of us in 14 years. I also noticed the other day going through my phtos that I really dont have alot of pictures of myself at all. i mean I have tons of pictures of my husband with the kids throughout the years, but very few of me and the kids. I do wish I would have noticed this sooner, I already have 2 kids grown and out on their own, 2 left so I better start having HIM take some pictures! Your picture is very nice by the way!

• United States
12 Dec 08
yeah, the only time I get any pics of me is if I ask someone else to take it. Nobody ever takes pics of me anymore.

• United States
8 Dec 08
We didn't have a picture for the longest time. We just got ours done about 2 months ago. A girl my mom works with is getting into photography. She took a class and now she is getting practice. So she took our pictures for free. We got our family done and one of just me and my husband. We also got the whole family, my parents, my family and my sisters family. With 4 kids under 7 you can imagine how much fun that was! lol

• United States
8 Dec 08
LOL, yes I can, 4 of my kids are under 7 still. I took 2 shots of just the kids, and 2 shots of the whole family, and chose the best of the 2. The kids had trouble sitting still, but still managed to get a decent photo.

• United States
8 Dec 08
We take a family photo once a year. Usually in the summer. So our last photo was taken about 5 months ago. The last picture of us by or selves was probably our wedding. Guess we should take a new one. It would be nice.

• United States
8 Dec 08
Yeah normally we just take pics of the kids, not ourselves, but this year I'm making a large montage of pictures of my family for hubby's parents as a gift, so I decided to take a pic of me and him to add to it.


• United States
8 Dec 08
Last Christmas, I think. We are usually the one taking the pics.



• United States
8 Dec 08
I ran for city council this year, so my hubby and I finally got pics taken together!