Special Christmas Outfits?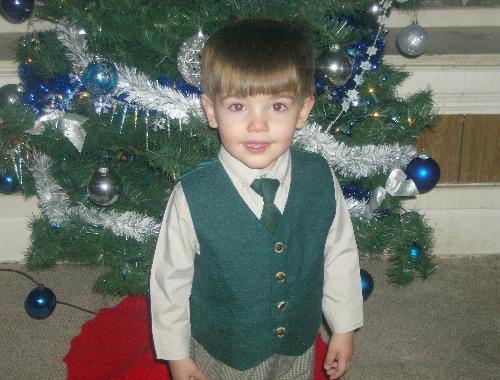 United States
December 7, 2008 9:01pm CST
Do you get your kids Christmas outfits?Normally we do not. I don't believe I've ever purchased a holiday outfit for my kids. But last year someone gave us an outfit for my toddler. He didn't quite fit in it yet, but because I wanted to do pictures today, I decided to put it on him. OMG he's so cute in his little suit. Check out his picture.
8 responses

• United States
8 Dec 08
I used to buy my kids clothes for Christmas, but it was always something they could wear at anytime, nothing Christmas-y. We usually went to my Mother's for Christmas dinner with the whole family, and everyone always had on a new outfit.

• United States
8 Dec 08
I buy them new clothes as Christmas gifts, but not special suits or holiday stuff. I don't believe in spending money on something the kids will only wear once. My kids don't dress up very often, so it's hard to find them really nice clothes for taking pictures in since they don't own dressy clothes. My daughter and my toddler are lucky because they're given hand me downs from our neighbors who go to church, so the kids get some very nice dressy clothes from them, as well as normal play clothes.

• United States
8 Dec 08
Oh, that's what we did. Most of our gifts now to the grandkids are clothes. I know my daughter has a hard time and I like to buy things for them. She has always done without to buy them what they need. Thanksgiving she has on the prettiest sweater.I commented on it and she said, 'I got it at the Thrift Store". I told her, if she hadn't said that, nobody would have known since it looked like a brand new sweater!! Nothing wrong with going to the Thrift Store! My Mother has found brand new things there!

• United States
8 Dec 08
Oh Kats! Your son is so adorable and so cute in his outfit!! pretty tree too (G)! thanks for sharing this beautiful Christmas photo with us all!! That would make a great Christmas card too!!! Happy Holidays!!




• United States
8 Dec 08
Thanks. I have a family shot I'm using as the card. But I'm making a gift for my in laws using a bunch of pics of my family, and this will be one of the pics I use.


• United States
8 Dec 08
Wow that's a long time. I hope he does make it home.

• United States
8 Dec 08
No, we don't do Christmas outfits. For us it's a day to relax and enjoy our time together. Half the time I just stay in my PJ's for Christmas even if we go away.

• United States
8 Dec 08
My daughter had one last year and she has one this year. My son no longer gets a special Christmas outfit. I just make sure he is wearing nice clothes. Last year he wore black pants and a red long sleeve polo shirt. It still fits him this year, so that is probably what he will wear this year too.


• United States
8 Dec 08
We used to get them Christmas outfits, but money has been tighter around Christmas the past few years, so we haven't done it.

• United States
8 Dec 08
We don't usually get my kids an outfit every year, but my mother does. She likes to get pictures of the kids in their outfits for her scrapbook.