Spur of the moment DVD purchases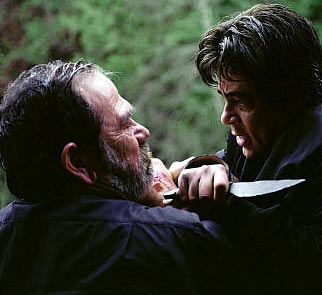 July 2, 2009 3:29pm CST
Do you ever by a DVD on the spur of the moment with absolute no knowledge about the movie in question. You just pick it up and go for it and then get a pleasant surprise when you watch it?I've done this a few times, mainly from the bargain bucket and often wished I hadn't bothered after watching it. But occasionally I do it and find a real gem such as when I picked up a DVD called "Hunted" which stars Tommy Lee Jones and Benicio Del Toro. It sort of like a more serious version of "The Fugitive" and "U.S. Marshalls" but is surprisingly really good.
9 responses

• United States
23 Aug 09
"powder".that turned out to be a pretty cool movie. it's about an albino child with supernatural powers.

•
23 Aug 09
I liked "Powder" and thought it was a lot better than many professional critics gave it credit for. Have you seen "Phenomenon" starring John Tavolta as a mechanic who suddenly gets a lot of super natural powers?

• United States
23 Aug 09
yes,i did.it wasn't too bad of a movie at all


• United Kingdom
23 Aug 09
I have only done this a few times as I don't tend to buy many dvds unless I have seen them at the cinema and know that I will watch them over and over again, for example the Star Wars 6 films, all the Harry Potter movies. But I was in HMV once and I liked the cover of American Beauty and they had reduced it to a knock down price of £6, it had Kevin Spacey in it an actor that I like and I was in a spontaneous mood so I bought it. I like to have a movie night in on my own, with the lights off, a drink and some snacks in my bedroom, well I thoroughly enjoyed the film, the only downside was that I wish I had gone to see it on the big silver screen! I have lost count the amount of times I watch it and whenever I go over to friends I always take the movie with me. If you haven't seen it I would definitely recommend it!

• India
3 Jul 09
hi.....Infact I too used to do the same. But lots of time I end up with a worst picture. sometimes,I really get to know awesome movies through this random picking mechanism.One of such kind is silence of the lambs. Its really a fantastic movie. Still continuing the same habit as like you bro.... cheers


• United States
3 Jul 09
I can't afford to waste money, and I consider 99.99% of movies that are released as pure trash, or maybe worth one watch. I only buy DVDs when I know what the movie is about, and when I have a general idea of the reviews. I rent movies from Netflix, so I have a "try before I buy" situation. If I like a movie well enough that I know I'll watch it more than once, then it might be worth adding to my collection. If not, a cheap rental is good enough.

• United States
3 Jul 09
we do this all the time. we see some movie we never heard of sitting in a bin for $5. maybe it has an actor that didn't do many movies. or an actress from before she was a "star". we've been pleasantly surprised on many occassions.

• United States
3 Jul 09
I have done this once or twice. The last timE I did was when I got Zodiac and it was pretty good. For the most part, I get movies that I have at least heard of.

• Greece
2 Jul 09
The only times I have done that is when one of my favourite actors feature and I'm sure it must be a good film if they are in it. My DVD collection is mainly made up of films I have already seen and know I will want to see again and comprises lots of old films. One DVD I did get without knowing anything about it except that James Sprader was in it was 'The Secretary' which turned out to be a great film.

• United States
2 Jul 09
It's not often I come across a movie I haven't seen, unless it's a New Release, then it's probably in my Blockbuster queue and I'll see it.. eventually. Other than New Releases, hubby and I usually come across movies that we haven't seen in years, or perhaps I saw it and hubby didn't so I want to get it so he can see it too, or vice versa. The only movies that exist that neither of us have seen are the ones we wouldn't dream of watching!