I can taste them now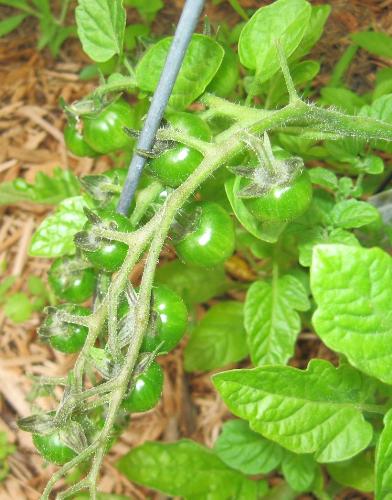 United States
June 21, 2010 1:43pm CST
This is a shot of one of my cherry tomato plants I have planted this year. They are starting to bloom finally. My other one has lots of flowers but has yet to form the juicy delicacies. Do you like cherry or grape tomatoes? HAPPY POSTINGS FROM GRANDPA BOB!!~
9 responses

• United States
21 Jun 10
I do I do I do and if you want to ship some my way Grandpa I won't complain

I don't grow any myself although I should but my mom grows them in her garden and I am always stealing them because I love them. My son and I are the ones that eat them in the house my husband and daughter think they are gross but I don't care because that means more for me LOL I am glad they are finally growing for you, my moms are growing a bit slower this year as well and she was worried at first that they might have that disease..I am not sure what it is called but it turns the tomatoes yellow...they had some that had it last year but they are so far safe this year and I am glad because I want some tomatoes


• United States
21 Jun 10
Hmmmm? Bummer. I've never had issues with diseases on my maters. HAPPY POSTINGS FROM GRANDPA BOB!!~

• United States
26 Jun 10
Awe, thanks a bunch for best response!!!!!! Much appreciated!!


• United States
21 Jun 10
Just an omelot is all. HAPPY POSTINGS FROM GRANDPA BOB!!~

• United States
21 Jun 10
I don't like tomatoes, but my 3 year old daughter goes crazy over them. She will eat them like any other little kid would eat regular grapes. I have to actually stop her from eating so many because she will keep eating them till the package is gone when I buy them.

• United States
22 Jun 10
I don't like tomatoes themselves but love the sauces and other dishes I can make with them. My tomatoes didn't come up this year for some reason so I guess I will do without them. My mom like to eat tomatoes just by themselves--ick!

• Garden Grove, California
21 Jun 10
hi Grandpa Bob thats one thing we used to buy in Vons as they had the contract to buy all of Irvine farms produce. the Irvines are mega millionaires and own most of Orange co. some say we should call it Irvine county but their cherry tomatoes were so good, and the price was really great so always had some on hand.,when we get tomatotes here it is one

or two slices in a salad as if they think we would croak from too much fresh veggies.


• United States
22 Aug 10
Hi Grandpa Bob. No, I don't like cherry tomatoes...I love them! LOL Ever since I can remember cherry tomatoes have been my favorite variety of tomato. Not only are they really easy to eat, but they're so tasty too. Yummy, yum, yum! Happy mylotting!

• United States
29 Jun 10
I like both tomatoes. But you know I dunno if it was the store we got some grape tomatoes at but everytime DD1 eats them she gets an upset tummy. So I dunno what the deal is or perhaps they are too acidic?

• United States
28 Jun 10
I love tomatoes i eat any style of tomatoes. I have picked 4 ripe tomatoes so far more on the way.

• India
23 Jun 10
Ya grandpa, i like to eat and cook tomatoes.... One thing i know very well about tomatoes, In unseason(tomatoes are rare) rate of the tomatoea touches the sky,, In season fall to down.... That is the speciality, when we see statistics of market....