I am a sociopath

Australia
October 27, 2011 11:08pm CST
Well, according to some silly little on-line self test, "Dude, I'm scared of you. You'd better watch out or you could become a full-blown sociopath." I have sometimes wondered, because my compassion does seem to relate mainly to those near and dear and I have certainly been egotistical, arrogant, and as self-centred as a gyroscope at various points in my life. But a full-blown sociopath? If it is so, then I failed at it. Perhaps when I did slip across the line from time to time I should have gone at it wholeheartedly, but i didn't, so whatever harm I have done it was minimised. I hope. Oh, so, I must have some redeeming points then. Hmmmn. What do you think. Do you have socipathic qualities? Lash
9 responses

• Canada
28 Oct 11
Sorry Lash apparently becoming a sociopath stems from far to much Mylotting and drinking way to much coffee... it's the begining of being anti-social infront of the monitor with the rest of us imaginary avatar like people. Your redeeming point is your Hat

• Australia
28 Oct 11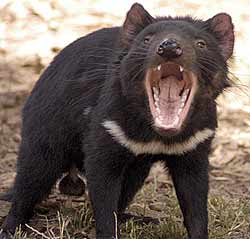 I'll raise your bear one Tasmanian Devil.



• Australia
28 Oct 11
The whips don't count? Well, no, on second thoughts they probably don't. I have to say that, I have more than you do lol. Probably. Well, maybe. Lash

• United States
28 Oct 11
I'd honestly be surprised if I wasn't. I think that it is just a common ailment of hanging out with some of the people that I do. Both in real life and on the Internet. I think that I know some rather strange people. Plus the way that the world is today, that has to wear on you anyway and anyone who hasn't developed some small form of sociopathic tendencies, good for you, you are a saint. Or maybe delusional. I have no idea. I don't think my case is as advanced as some people. But there are times where my mind might be going to some rather dark and disturbing places. Then again, I'm a writer, perhaps that could be a part of that as well. So many reasons why I might have some small form of such tendencies. I wonder about myself sometimes. I can only imagine what other people are thinking about me from time to time. Not full blown, more like a hobby really.


• United States
28 Oct 11
I went and looked up a test or two immediately upon reading this post and on the first one, I scored a 4, which means I am not at all a sociopath. However, on my second one it told me I am a high functioning sociopath and I have a lot of fun gaming the system, whatever that means.

I am sure that's because I answered that I do what I want when I want but just ensure I never get caught if getting caught is to be avoided, and of course I don't have any compassion for idiots or people who have brought misfortune upon themselves. I don't feel obligated in any way to help those who don't help themselves, even if other people think I SHOULD because I CAN. Doesn't mean they deserve me bending over backwards lol. I'm not a gymnast for a good reason - I might get stuck that way!


• United States
29 Oct 11
Ok... this is what I mean by 'bringing misfortune upon yourself'. This does not apply to someone who may have been born disabled or born and orphaned immediately, born into a situation where the family cannot support themselves so they are homeless and starving. I'm talking about someone who is doing just fine, but then they make bad decisions, leading to the loss of a job or home, maybe the end of a relationship, etc. People who continue to make bad decisions and just expect friends and family and the government to 'fix everything' and to 'help them out' is being a victim and acting delusional. If you took all your money and spent it on an iPhone and fake nails and fast food and lotto tickets INSTEAD of paying your utilities and getting groceries for the week.. and paying your cable bill and putting gas in your car, you have NO right EVER to CRY to me that you have no food, your tv is shut off, and you can't get around because you have no gas in your car. THIS is what I mean ultimately by people who bring misfortune upon themselves. I know way too many people in this situation and trust me, they think I should help them too. I think I shouldn't. I would just be enabling a bad situation to keep on going, they'd learn nothing, and I'd really not even be helping. It sucks.

• Australia
30 Oct 11
Hmmm that might cover a small minority but it seems unfair to punish all the people who are in hard times just so the few do not get help. Our system is desinged to help everyone and even with our some fail to get help. We even have counselling to help those people who are unable to manage their money well and that can be a problem handed down through generations. If you have never been taught how to manage money it can be hard to learn especially if you are lurching from one disaster to another. Our world insists that people save for their retirement but if you never have any excess money you are unable to save. Australia is trying to deal with this by having compulsory superanuation for all employees. Even that is often not enough by retirement and there are many people who have little or no super. So we have an age pension to cover the basics. Much better than in my grandmothers day when she had to go to the council every fortnight to ask for her legal allowance and had to put up with his contempt that she was poor. At least our system gives the poor some dignity.

• Australia
28 Oct 11
I was curious so I took a test and discovered that I am not one. Hmmm but when I read the signs to look for I thought that any politician would tick every one of the signs. Does that mean all our politicians are sociopaths? Scary thought but maybe that is what is wrong with the world it is run by sociopaths.

• Australia
28 Oct 11
Them and corporate executives according to Babiak and Hare. You only have to look at all the wars to understand that it is not a matter of "maybe" - the world IS run by sociopaths. Especially the mob who run the world's major religions. Lash

• United States
28 Oct 11
Gosh Lash, I'm thinking I'd be totally afraid to take that quiz lol. I'm not sure I'm not close to 'cuckoo for cocoa-puffs" myself, but I sure don't want to take a quiz to find out haha. I think no matter who we are, we all have some of those tendencies from time to time just because we're human (or at least last time I checked I was;-) I'm not sure if I've ever met anyone who never had a moment of egotism, arrogance, or self-centered-ness at one time or another. I think that with true sociopaths, the scale tipped tremendously and got stuck there without ever touching back on normalcy. Do I have sociopathic qualities? Hmmmm..nope...not that I know of, but if I was a true sociopath, I probably wouldn't know anyways right?! :-)

• Australia
28 Oct 11
I would expect that most sociopaths are quite aware, thgey just don't care. But I also wonder if a moral upbringing doesn't set some rules in even a sociopath's make-up, and I wonder if there aren't a number of them who actually try to control their sociopathy and even manage to mostly succeed. That would certainly fit with my make-up, if that test has any validity. Lash

• United States
29 Oct 11

Absolutely! I think that if we study ourselves close enough...and go "by the book"..well...let's just say that we might all have something to be concerned about. Slipping across the line..that's the key...what are we able to control and what are we unable to get a hold of. I often wonder if things aren't cumulative...as far as the slipping things goes and what is it that has the potential to push us over. My daughter's b/f has my undivided attention right now...oh my..did I say undivided...well..I meant..well....no I meant undivided...he is really on the poo poo list.