Health benefits of trampoline...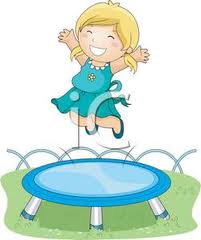 Philippines
October 26, 2012 3:17pm CST
After reading about the health benefits of trampoline which includes the following: strengthens the bone density, good for the heart, good for improving blood circulation, good for lymphatic system, can decrease stress and good for weight loss. Now I am planning to purchase one by next week and need to discuss about it to my husband later.
10 responses

• United States
27 Oct 12
Who knew a trampoline could do all that for your health? I am curious about how it strengthens bone density; I will have to read up on that when I have some time to research it. Will you buy a small one or a big one?

• Philippines
28 Oct 12
I will buy the medium size which I can able put in out bedroom since there's still place there.


• United States
28 Oct 12
Yes they are very hard on the knees! Even though the landing feels softer, it is actually putting more strain on other parts besides the knees. I bought one thinking it would help with my arthritis..in turn it made it worse..way worse. I jarred my back, and cause more problems with my knees, even my neck. That has been my experience. Now other people may have different results..we are all different. People tend to jump just a little higher and when they come back down the weight of their body actually puts more strain and pressure on everything..especially the joints. I have rheumatoid and osteoarthritis and have seen recommendations for trampolines for arthritis...don't do it if you have bad arthritis, that is just my opinion...caused me to have more problems.

• Philippines
28 Oct 12
Hi cher913, jessielee was right and said everything. Thanks

• United States
27 Oct 12
Ive never been on a trampoline ever, and it sure looks fun and most people I know who have tried can attest that it makes a good workout. We have the space for it, but I don't know if my husband will let me have one. We'll see if I can convince him when he gets home.

• Philippines
28 Oct 12
I hope by this time you already convince your husband to have one. My husband at first doesn't agree to have a trampoline here at home but when I told him that i need it so badly and serve as his birthday present for me then we agreed.

• United States
27 Oct 12
I used a trampoline as part of an escape route once. It was a crazy situation I found myself in. That trampoline was conveniently placed next to a wall which I could not climb. The details are sketchy, but there were some guys chasing me. I guess the healthy part was that I successfully managed to escape without having the daylights beaten out of me. I'm quite sure you are probably referring to actual health benefits, things not as extreme as my case, but I thought I would share it. It seemed funny to me.

• Philippines
28 Oct 12
Yes, its very funny but at least it saved you from those guys who chasing you.


• Philippines
28 Oct 12
I know that feelings, that was happened to me too when i used the trampoline with my nice for the first time but now i am enjoying it.

• India
26 Oct 12
Thanks a ton for sharing this discussion. Well yes u are absolutely right, trampoline is increasingly being accepted as a new way to keep oneself fit and strong especially because it requires involvement of all body muscles and parts. It is a rhythmic exercise and can be done easily at home without anyone's assistance. Glad that u are planning to get one by next week. What say?

• Philippines
26 Oct 12
I always stay here at home and always raining nowadays, i want to try a new way of exercise where i can get lots of health benefits and so far trampoline is perfect for me.Thank you for response.

•
27 Oct 12
When I was 14, I bought a trampoline and I have to admit that I loved it. I was able to go on it every day, which meant that I was able to get a lot of exercise that I wouldn't have been able to before I got it. Exercise is very good for a person, and there are a lot of health benefits from it. It also meant that a lot more of my friends were able to come round to see me because there was something that we could do together instead of just sitting around in the house and talking like we would have done if we'd been to see another friend.

• India
27 Oct 12
Thats interesting..I didn't know about such health benefits of trampoline. i am going to search about how it strengthens the bone density.

• Garden Grove, California
28 Oct 12
hi Bhelbelen yes I think it would be really good for ones health as a form of cardio vascular exercise b t do learn how to use it properly as when I was a nurses aide I saw several cases of torn ligaments and sprains from someone who had never used a trampoline before . I think there must be some suggestions for safe usage I have never had one so do not know myself.happy exercising.