It's time for the Rooster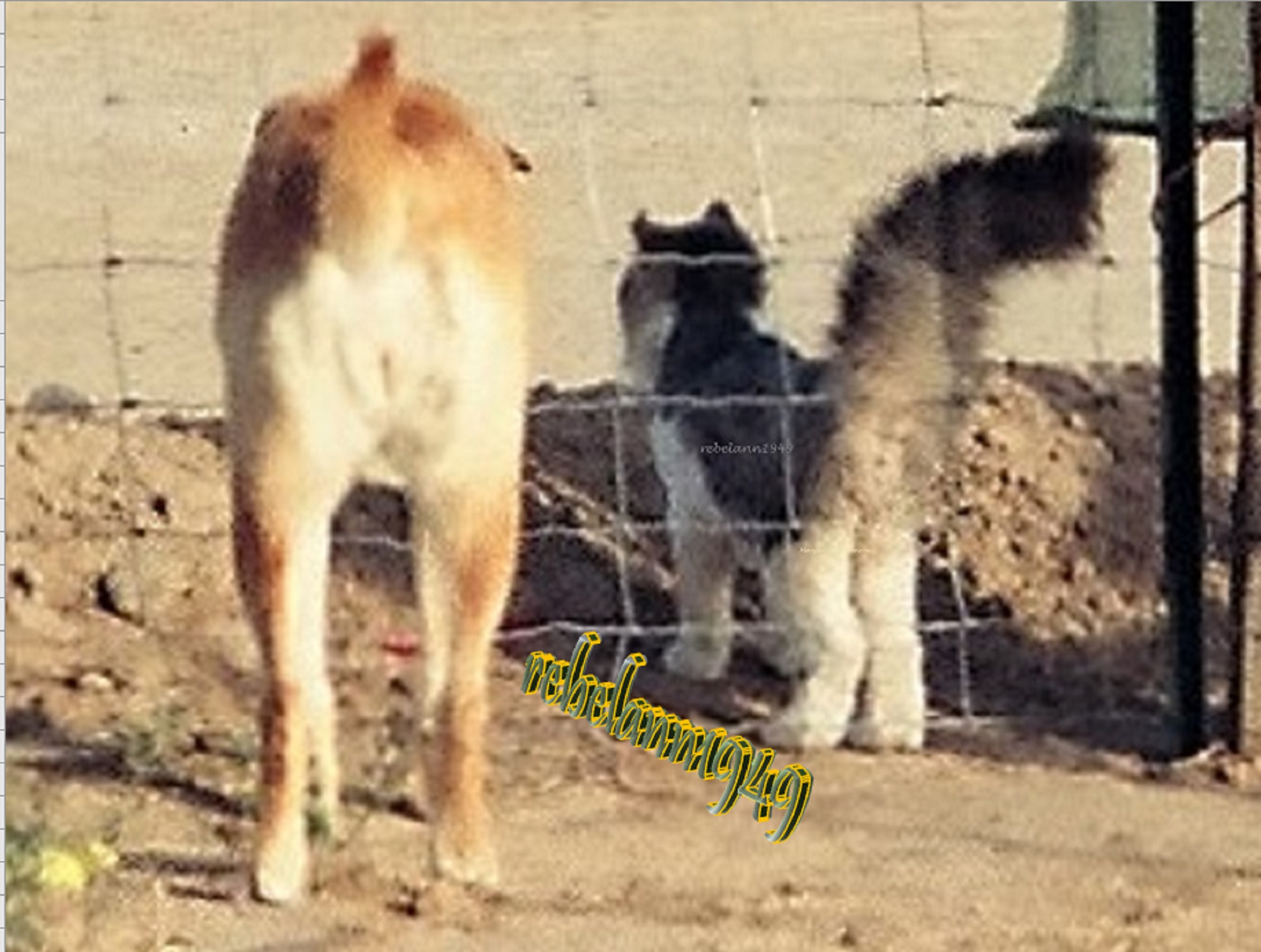 El Paso, Texas
January 27, 2017 12:46pm CST
Yep, this is the year of the Fire Rooster ..... do not ask what that means cuz I really do not know, just thought it was interesting. I found the photo above in my archives. I took this shot 19 years ago and the reason I know is because the cat is Spunky, I had to let them shave him down because of a rash the poor thing got just after we moved here in 1997. His pup is Sophie, she only weighed 72 lbs, just thought you should know how tiny Spunky was Spunky is partly on the other side of my fence, it's what they call field fence and that is why them damn wabbits keep getting in my yard. Hopefully I can afford enough chicken wire so I can attach it to that fencing to prevent those wabbits getting back in. Does anyone out there know if wabbits climb?
8 responses

• United States
27 Jan 17
Year of the Fire Rooster eh? hmmm

• El Paso, Texas
28 Jan 17
I know ..... are his tail feathers on fire?


• El Paso, Texas
29 Jan 17
But Bugs outsmarts him


• El Paso, Texas
29 Jan 17
But see
@Asylum
I knew what you meant



• United States
1 Feb 17
They do not climb that I know of. However, they do burrow in the ground. Make sure you put the chicken wire underground a bit when you install it. I have seen people who keep rabbit colonies. They take the chicken wire and burrow it down about 3 feet all the way around the colony. They kind of lay it in the ground at a curved angle and make it come up like a bowl. They then put in extra dirt for the rabbits to burrow into and make their little caves.

• El Paso, Texas
1 Feb 17

ummmm, I have this feeling I won't be putting that much chicken wire around, that's a lotta extra work I don't have time for right now but boy am I glad you mentioned that. Well, there has to be another way to deter them dam wabbits.

• United States
3 Feb 17
@rebelann
Yes quite a bit of work but you can try other things as well. Now this will sound gross but pour pee around the edges of your yard. You can also use human hair. Beauty shops and barber shops will give you free hair if you ask for it. The smell of the urine and the human hair will help keep them at bay. With both, after any rain or after any length of time you will have to refresh everything.

• El Paso, Texas
3 Feb 17
You know I've actually heard about doing that before
@Shellyann36
trouble is my neighbors wouldn't be all that forgiving if I did.

• Green Bay, Wisconsin
28 Jan 17
I've never seen them climb. That doesn't mean they can't.

• El Paso, Texas
28 Jan 17
Well, maybe they don't. I'm determined to beat them at their own game, I want my hollyhocks to grow without becoming a meal.

• Green Bay, Wisconsin
29 Jan 17

• United States
27 Jan 17
Well, we had to put chicken wire around a new sapling to keep the rabbits from eating the tree's leaves, and that worked. Cutest canine and feline butts in that photo!!

• United States
29 Jan 17
I don't know if they can climb, but jackrabbits have been known to jump high. I hope you can get fencing that will do the trick.

• El Paso, Texas
29 Jan 17
These aren't the big Jacks so maybe they won't be able to jump too high, the field fence is right around 4' so if I get enough chicken wire I might be able to give the fence a little height ..... with my luck a wabbit'll get stuck in the chicken wire and Ally will wanna play with it.


• El Paso, Texas
1 Feb 17
Oh good, glad you got a good giggle. Wabbits know how to be sneaky, I think one of em has a hole out back but it's been too cool for me to care to wander out that way. Soon we'll be in the 70s so I'll have a look see then.

• Canada
27 Jan 17
We used chicken wire to keep the rabbits out of our garden. It was effective for us.

• El Paso, Texas
28 Jan 17
I'll have to do it section by section but I'm determined to keep those varmints outta my yard somehow.