Do your cats like boxes?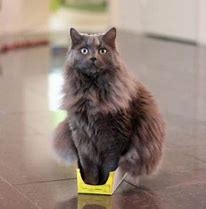 United States
January 15, 2022 8:31am CST
Cats are all different and they all seem to have their little quirks. Most like boxes and or paper..but not all. Nico has never been one to sit in boxes, although he does like his cat house made of cardboard. The cat in the pic made me laugh because our family cat as a kidused to sit on any piece of paper or in box he could find. He would sit on a gum wrapper on the floor.
9 responses

• El Paso, Texas
11h
Mom's cat loves boxes but Boo doesn't really care although she loves when I make her a cave to hide in.

• El Paso, Texas
9h
The last one I made was to cut out the corner and the upper flaps then I just put it over her kitty bed, she liked that for a while but it's gone now so I'll have to make a new one.

• United States
9h
@rebelann
Nico's bed is actually inside a flat carton, but he doesn't seek boxes out on his own.


• Wheat Ridge, Colorado
18h
When I had kitties years ago , yes they did. I love that photo

• United States
18h
It's cute. My current cat is the only one I have had that doesn't really like boxes. He is into the tunnel he has though and likes to sit in that.

•
13h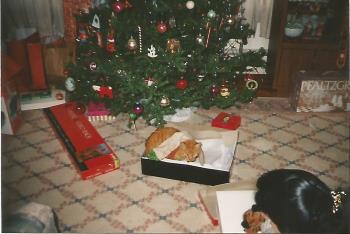 Now that's a tight squeeze

Yes, the last few cats I had loved to sit in boxes. Especially the ones used to wrap presents at Christmas.

• United States
15h
Love the picture!! It reminds me of one of the cats I had that used to curl up in any empty box and take a nap. Before I would remove the boxes from the house I had to do a "Cat Check" to make sure that my baby wasn't nestled in the box. It didn't matter if the box was empty or had stuff in it, he would crawl in it to nap. I had one that was filled with paper that I had carried out to the trash a few minutes before the trash man came. I had barely gotten back in the house when the trash man was knocking at the door. In his arms was a big Siamese cat that was snuggled up close. Apparently when the trash man was picking up the box my cat stuck his head out of the box, he startled the trash man something fierce! Charlie (the cat) was snuggled close to the trash man and purring like crazy. He would reach up and pat the man's face lovingly. Little did I know it would be the start of a wonderful friendship. The man would stop on occassion to make sure that Charlie was okay and at Christmas time they exchanged gifts. The trash man would get Charlie a cat nip mouse and Charlie got the trash man chocolates infused with booze. I was a LOT more careful about getting rid of boxes filled with paper or other stuff. Charlie slept in boxes until he passed away at 18 years old.

• United States
17h
Cats likes to get in bags too.

• United States
18h
When I had cats they loved boxes. I can certainly relate to cats sitting on the tiniest piece of paper on the floor too

I used to have a cat that slept in the bathroom sink. Made it hard to wash your hands


• United States
18h
That is funny! I guess he thought it was just the right size!!

• Malaysia
18h
The cat in the picture is cute! I didn't know cats like to sit in such a small box. I have a few stray cats in the yard. Sometimes they come into my house. Some of them like boxes, but some don't. It's actually my kids who are taking care of the cats, as they like the cats. They really learn a lot about cats from taking care of those cats. They always told me, cats are all different. Some like to catch the rat, but some don't.


• Chisinau, Moldova
3h
Indeed , I have two cats . they will ignore any toys that I buy them, but the box will never remain without attention , when I receive parcels, I always open boxes for them

• Rockingham, Australia
4h
There are some very funny photos of cats squeezing into boxes that are much too small for them. Our little cat liked a plastic ice-cream container. It was in the garden n the sun so I guess it was a nice warm spot for her.