Birthday cake or whoopie pie!

United States
April 15, 2011 1:00pm CST
So for my second girls birthday she has decided to for go the birthday cake to have whoopie pies! SO I think we'll make a few flavors of cakes and fillings and let the kids at the party make their own. Is my kids weird or is this a new fad sorta thing. I keep seeing cupcakes everywhere and donuts. Has the Birthday cake fallen out of favor?
11 responses

• United States
16 Apr 11
Kids love things they can make themselves. Birthday cakes will always be "in", but anything a kid can make themselves as an edible art project then eat is just all that much more fun.

• United States
19 Apr 11
Oh yeah and I bought a bunch of sprinkles and colored sugar from a store that was going under. Flowers of dried fondant, 12 colors of sugar (2 six packs) a bunch of different shaped sprinkles, and my favorite tiny little different flavored chips chocolate,raspberry,peanut butter, Carmel and pastel colored white chocolate. I got lucky I bought a box of mixed items for $2! I am going to let them roll the sides of the WHoopie pies in them.

• United States
21 Apr 11
Yet people put thousands of dollars into choreographed Princess parties for little girls.


• United States
19 Apr 11
We will be at a park so Ice cream will be a little difficult to keep cold...

• United States
16 Apr 11
I"ve noticed that fondont has made a huge replacement for buttercream icing lately. I don't care of it at all, but that seems to be what all the "cake bakers" are using on the shows. Cupcakes are popular..even cupcake wedding cakes! I'd say if she wants whoopie pies for her birthday...let her have whoopie pies for her b-day! And letting the kids make their own..that is a great party activity!

• United States
19 Apr 11
Planning on it being a ton of messy fun My favorite!


• United States
15 Apr 11
I'm not really up to date on things like that but know they had cupcakes at my grandson's party last year. I t easier for the kids & adults to to handle especially since his party was at a park.

• United States
19 Apr 11
We always do at the park lots of fun. These I will not have to cut up too which is nice.

• Garden Grove, California
15 Apr 11
hi opinionatedLady wow think of the sugar highs afterwords wee. just kidding but I remember when I worked in the kids side of the library I had to help with the children's librarian's reading hour. She alwasy had some candy treat and by the time the kids had eaten all of their treats I swear they did act like little monkeys on a high. swinging on the top shelf of the book stands, chasing each o ther and making older people bit.ch at the front desk staff. I think birthday cakes are still in bujt maybe moms like the cupcake idea as its more personal and too they weill not make as much a mess.I was just thinking of birthday parties and kids who are diabetics, wonder how those moms handle the birthday party bit. I know there are sugar free things made by Sara Lee that really are pretty good.I found out last night that if I have low blood sugar one donut stick is too much sugar as when I ate this then got up at six my fastng blood sugar had gone from 62 to 220 not good. shame on me. the donut stick was super delicous but high blood sugar is not okay. I have not seen a whoopie pie in ages. so must be a new in thing for the kids. lol.




• United States
19 Apr 11
They are in every food store and bakery around here! Sugary or carb filled snacks are never good before bed. Try a low amount of carb around 20 g and a protein like cheese or nuts. That's what worked best for me when I was pregnant and had gestational. i diet controlled from 8 weeks pregnant to birth.

No meds for me. As for kids on a sugar high that is why I have the parties at the park. Lots of fresh air, running and playing. They leave us filthy and tired.


• United States
15 Apr 11
Sounds fun! But cake seems a bit much. Kids waste things. How about making a bunch of cupcakes and having them each decorate a few of t hem? I bet any of the girls that I work with would love doing that! Like different candies and frosting flavors! Good luck!


• United States
17 Apr 11
The cakes for whoopie pies are the size of a cookie just puff up more like the top of a cupcake. Then they fill them with a cream or frosting sandwiched between two cakes so about the same amount of cake as a cupcake.


• United States
17 Apr 11
I jave doen cupcakes for school/scouts parties.

• United States
15 Apr 11
I may be wrong here.. Is the whoopie pie one of those cakes that look like a moon pie? I would make cup cakes in stead of cake.

• United States
17 Apr 11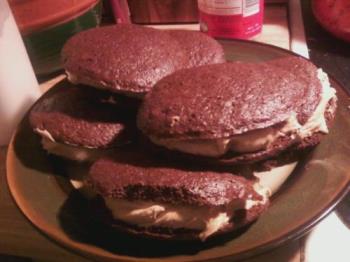 Yes they do look sorta like a moon pie. Here is a picture of the ones we made today for fun. Chocolate peanut butter whoopies. Chocolate cake peanut butter cream filling.

• United States
24 Jun 11
I love whoopie pie! I have not had that in many years! Wish I had some right now.

• United States
20 Apr 11
At my granddaughters party everyone decorated their own cupcake..all the kids had a very good time and it was so much fun to see how they used their imaginations...This year however grandma is buying a Dairy Queen cake....bought one for my other granddaughter so will get one of the little one too.

•
17 Apr 11
im not sure but i have seen wedding cakes that are cupcakes. they are tiers that have cupcakes on depending on how many guests. i think this is a good idea so you are not cutting lots of pieces and everyone gets the same. so i think it would be fun for the kids to make their own cakes.