What kinds of ornaments do you like to put on your Christmas tree?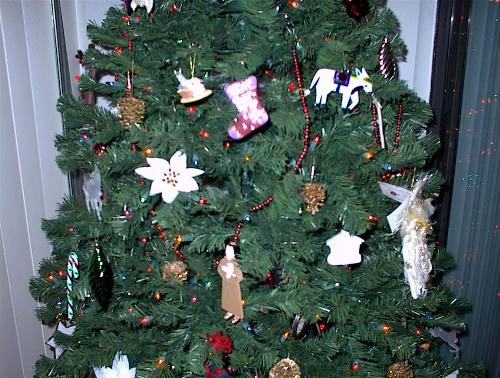 United States
December 8, 2011 9:32pm CST
I usually like to put ornaments I have bought when I was in Europe and all around the states. I use a lot of angels, stars and nativity ornaments on it, but at the back or bottom I would write the state and year I was when I got the ornament. Now when I set up the Christmas, I can recall those places fondly. I have also heard of trees decorated with themes like western, victorian, modern, hard rock, tropical, snowy, and others. How do you decorate your Christmas tree?
10 responses

•
9 Dec 11
my tree is mostly purple. it's a black artificial tree with purple glitter on the tips. onto that I put purple lights, purple feather boas instead of tinsel, purple baubles, strings of large plastic pearls, and on the top I have figures of Jack Skellington and Zero from the nightmare before Christmas. it looks rather lovely, and I've had lots of compliments on it.

• United States
10 Dec 11
OOooo... A black tree! I have seen those without leaves and rather gnarly sold and decorated for Halloween. Do you have a photo of it? It sounds beautiful if it is like a regular Christmas tree only black. Sounds very nice. Please post a photo if you can. =))

• United States
14 Dec 11
Good luck, Galena. Look forward to seeing it.

• United States
12 Dec 11
My Christmas tree is a mix (I like the word eclectic) of styles and objects, but I have a lot of bright red ornaments so those show up best. Everything, with the exception of a garland, on my tree is hand made. Well, I put candy Christmas canes on it, too, and I don't make them. I don't go with a theme like some do, but I enjoy simple things like tiny mittens and ice skates, Santas and bells and so on. I don't think I could put a label on it!

• United States
14 Dec 11
Eclectic might best describe your tree. Those trees can be so much fun to look at. They can have some really wonderful and fascinating things to see. I also put candy canes on my tree, real ones that are wrapped in cellophane wrappers so you can eat them right off the tree if you like. I like the chocolate mint candy canes.

• Canada
11 Dec 11
I'm pretty sentimental about my Christmas tree. I have a lot of ornaments but some I consider just "fillers" if I think it needs them. The ornaments I truly value are old. When my mom passed away, I took most of her tree ornaments -- the ones I remembered decorating with at home when I was a child. My sister has a few, I think, but she didn't want too many. I have keepsake ornaments from when my girls were babies - those are the first I hang, then all of my mom's and then I use the rest of my own. I don't have a specific theme. My tree used to be a lot of red and gold, until I got all of Mom's things. I get a lot of compliments because it's such a full tree... but, for me, it's full of memories :)

• United States
14 Dec 11
Oh, I do understand completely. You seem very sentimental and sweet. Yes, the Christmas tree can be a creative project or a helpful reminder of loved ones and happy memories. I am sort of like you. I do the same.

• Canada
14 Dec 11
Thank you

I am definitely sentimental about Christmas. Doing the tree makes me feel that my parents are still a part of my holidays and it means a lot to me. They were very big on Christmas and I think they instilled that in me. Even though parts of putting up the tree feel like drudgery -- the lights, I hate doing that part

-- the ornaments are special. The last two years, my younger daughter has been helping me place them and she has a really good eye for how to do it. She carefully considers where to hang each on and does a lovely job. I'm glad it's something we can do together because we talk about the holidays and her grandparents and I think it's developing meaning for her too


• United States
9 Dec 11
I like a lot of colorful christmas balls, and lots of fun and unique ornaments. Our tree is very random. I have never really liked the themed trees. This year I decided I didn't want to take part in decorating the tree, so let hubby put nothing but his hallmark ornaments on it. It is A LOT of star wars and star trek ornaments, with a few other ones.

• United States
9 Dec 11
ROFL!! Oh, I wish you would put up a photo of it somehow, if it's possible here. I would like to see that tree!! I like scifi stuff but not on a Christmas Tree. Thanks for sharing. Please upload a photo of it if you can. Merry Christmas!

•
11 Dec 11
I tend to try to keep to a colour theme, that way if I see anything that go on the tree, I will always make sure it is the colour that I have chosen for the other tree decorations.I like to buy a lot of plastic things to go on the tree, as I have lots of children that come round and would not want to get the decorations broken or some that would cut the children.

• United States
14 Dec 11
Another good idea about using ornaments that are "kid-friendly" so the children can enjoy their tree without having to worry about breaking anything. Pets too. My dog was fascinated by our Christmas tree. He would stand before it and look at it for long periods of time, but he never touched it. I have heard of some pets that have disturbed trees, smashing ornaments in a chase, or kids rough-housing too close to the tree and damaging it. Glad that never happened to me. LOL!

• Canada
11 Dec 11
i like the country/rustic/vintage/antique look so i am always looking that sort of decoration to put on the tree but i have to say, my favourite ornament is the red plastic Charlie Brown ornament that my daughter bought me last year for Christmas. (i love Charlie Brown!)

• United States
14 Dec 11
Awwww... Good ol' Charlie Brown. That cartoon character has been special to many of us who have seen his holiday specials as we grew up. A good choice!

• United States
11 Dec 11
I have all sorts of orniments on our tree. Ones from when I was a kid, things the kids have made, things I have made, things my mother had made or bought.... just a bit of this and that really. I'd love to do a theme but that gets expensive and with having kids & cats who fancy the tree around, I can't bother with such an investment.

• United States
14 Dec 11
You are more like me, SnuggleBunnies. I have ornaments that go back to when I was a child and I just keep adding more and more whenever I traveled and for special occasions. I could never do a theme either. Though those are very nice to see, it would mean I could not use my favorite ornaments, so I don't do themed trees. A Christmas tree should be like an art project, a reflection of yourself, your family, your interests or your creativity. That's just my opinion. =)

• United States
11 Dec 11
It has changed with my family. With little kids, I didn't want to constantly be saying "no, don't touch". I wanted them to enjoy the tree so I got all wooded or plastic ornaments. When they got older...I love the old fashioned styled ornaments and handmade ones...so we did alot of handmade ornaments. THen they got grown up and I went to store bought, but nice more 'sophisticated" style ones. NOw... I don't have a tree at all! Just being me and my husband..no more kids...I just don't have the want or the ambition to put one up! Also...it has always been colored lights for me. I tried all white one year, but the tree just didn't have the happiness or excitment that the color lights have! Christmas just has to have color! I love the big fat ones..had those as a kid myself, but then they went to those mini ones....would still rather the big ones, but the mini...just have to have more of them!

• United States
14 Dec 11
I think you did right, Coffeebreak. It's good that you made your tree "child friendly" just like you do your home so they will feel comfortable and happy. I remember the days when the lights were big too, but now I like the little "fairy" lights now. I find it a little sad that you no longer put up a tree now that the children have gone. I have never had children but I have always had a Christmas tree every year and it wouldn't be Christmas without my tree and other decorations. Well, Merry Christmas anyway, tree or no tree. After all, we know that Christmas is not about the trees. Right? ;)

• Australia
9 Dec 11
I like the idea of each family member having a christmas ball with their name on it and each person adds their own name to the tree, I think it is a lovely thing to do, my sister always has a photo of our father who is now gone and that is in a tiny little frame specially made for Christmas trees.

• United States
9 Dec 11
That's a great idea! My parents are both alive, thank God. But if they do pass, that would be a very nice way to remember them at Christmas time. Thanks and Merry Christmas, Lilaclady.

• South Africa
24 Oct 15
One year I decorated the tree with red and white sugar canes and chocolate money on thread.