This is the blanket I crocheted for a silent action.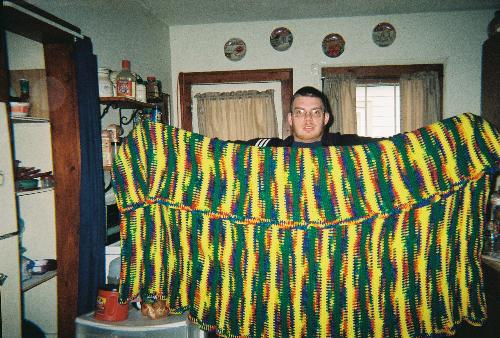 United States
September 11, 2009 1:14pm CST
I crocheted this blanket for charity called second chance for life. And it was the first year for that certain one. So it went ok. They got the blanket for $25.00 but that was ok. Next year that is all I'm spending on yarn. But we all had a blast and here a pic. of the blanket and my son. You all have a good day.
9 responses



• United States
12 Sep 09
CJ said that she is not going to share it with her husband. I had to laugh I mean it is big enough. She got it she was so happy about getting it. I was as well, I had just met her and she is really nice and very funny. Yes I'm very proud of my son. He is a great kid/young man. You have a good day. Your friend onlydia

• India
11 Sep 09
That's so sweet of you. You really are very good at it and the picture shows how you two had great fun. I do hope you crochet lot many for yourself and for good causes like this. Hats off!


• United States
12 Sep 09
My aunt never found out about the vets. Hospital so it seemed like the thing to do. Plus I made three others and gave away. My great Niece and her little cousin and then my sons girlfriend. Thank you very much for what you said about the blanket and my son.

You have a wonderful weekend. Your friend onlyida

• United States
11 Sep 09
That's a lovely blanket! What a nice thing for you to do. Catch some sales during the year and see if you can save a little money next time!

• United States
11 Sep 09
That's really sweet of you to do something so incredibly charitable. Good for you. Even if it only sold for $25, I still think it's a great thing. Good for you for taking time & effort (and even money - from buying yarn) out of your everyday life to help the lives of others. That's super sweet! I honestly set out on year to knit scarves for the homeless a few years ago - but knitting is super hard and I never quite got the hang of it. So good for you for sharing your talent with others!

• United States
12 Sep 09
Oh yes I go to the thift stores and get yarn and on sale and I already got the yarn for next years. I make blankets for all my nieces and some friends. I tried to make for the vets. Hospital but I ran out of time and it got hot. So I made dish rags and some of the woman at work use them as wash cloths. Thank you and you have a great day.

• United States
12 Oct 09
I love the colors you chose. They compliment each other very well.


• United States
25 Sep 09
That was very nice of you to do that. I know how to crochet too but I haven't crocheted in years. I think you are such a nice person to do this for charity.
Have a nice day and happy myLotting!!!